2009: #52 – Sunny Chandler's Return (Sandra Brown)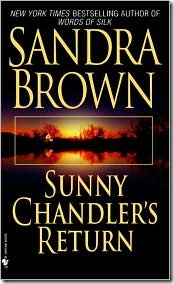 Book #52 was Sunny Chandler's Return by Sandra Brown.  The back of the book reads:
Sandra Brown has won over fans and critics throughout the world with more than fifty New York Times bestselling novels. Her early works were hailed by Rendezvous magazine as stories with "larger than life heroes and heroines [who] make you believe all the warm, wonderful, wild things in life." Here is the unforgettable story of a woman who returns to her small hometown in the South—and finds that the sins of her past are right where she left them.

Never. Sunny Chandler always said she'd never go back to the tiny town where she grew up. It was just three years ago that she was at the center of a notorious scandal—and the good folks of Latham Green, Louisiana, made it clear they'd never let her forget it. So Sunny packed up and headed for New Orleans, and now she wouldn't give up city life for the world. But when she's invited to her best friend's wedding, Sunny has no choice but to go home. And with her return come the whispers…the looks…the rumors she tried to escape. It doesn't take Sunny long to see that Latham Green has nothing new to offer. Except maybe Ty Beaumont.

The moment Ty and Sunny first meet at a party, he can see she's no ordinary woman. With her dazzling hair, and eyes the color of gold, she's a flesh-and-blood fantasy—and Ty vows he'll have her in his bed before the week is out. Yet even when he turns on his southern charm, Sunny makes it clear she's not interested. Sure, a night with Ty would be wilder than Bourbon Street at Mardi Gras. But Sunny's not in town to become some good ol' boy's latest conquest, no matter how sexy he is. Little does she know that Ty isn't used to taking no for an answer—and he isn't about to start now.

Soon what began as an innocent flirtation becomes a tantalizingly slow, skillfully deliberate, and overwhelmingly seductive pursuit that even Sunny finds hard to resist. But resist him she will. For Sunny is harboring an agonizing secret—the painful truth of why she left Latham Green the way she did. What she really needs now is a friend—and that's when she discovers there may be more to Ty Beaumont than meets the eye. Despite his roguish facade, Sunny comes to see he has a heart of gold. Still, she doesn't know if she can trust another person with her secret heartbreak—not even the one man who may be able to heal it.
I think there's yet to be a Sandra Brown book I haven't liked.  Her non-suspense romances even manage to be complex and sexy without being sickly sweet or cliché. Sunny may have over-reacted a bit to her wedding that didn't happen, but I understand small towns and how news, accurate or not, travels fast. Ty was straight-forward and pushy, but seemed to know exactly what she needed, right from the start.  Brown is one of the best at creating sexual tension, and that's what really sells a romance for me.
Page count: 256 | Approximate word count: 51,200
2008: Sharp Teeth (Toby Barlow)
2007: The Apprentice (Tess Gerritsen)
2006: The Winds of War (Herman Wouk)
2005: Four to Score (Janet Evanovich)
Used in these Challenges: 100+ Reading Challenge 2009; Read Your Own Books Challenge;