2021: #43 – One Last Stop (Casey McQuiston)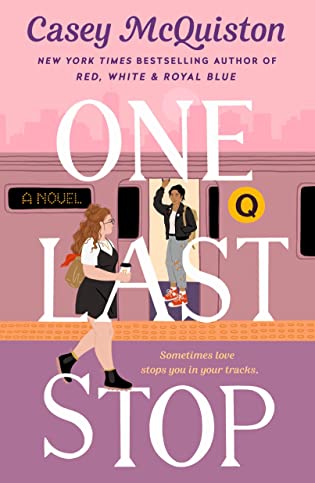 One Last Stop
by
Casey McQuiston
Published by
Piatkus
on June 1, 2021
Genres:
lgbtq
,
new adult
,
romance
,
contemporary romance
Pages:
384


Also by this author:
Red, White & Royal Blue
Cynical twenty-three-year old August doesn't believe in much. She doesn't believe in psychics, or easily forged friendships, or finding the kind of love they make movies about. And she certainly doesn't believe her ragtag band of new roommates, her night shifts at a 24-hour pancake diner, or her daily subway commute full of electrical outages are going to change that.

But then, there's Jane. Beautiful, impossible Jane.

All hard edges with a soft smile and swoopy hair and saving August's day when she needed it most. The person August looks forward to seeing on the train every day. The one who makes her forget about the cities she lived in that never seemed to fit, and her fear of what happens when she finally graduates, and even her cold-case obsessed mother who won't quite let her go. And when August realizes her subway crush is impossible in more ways than one—namely, displaced in time from the 1970s—she thinks maybe it's time to start believing.

Casey McQuiston's One Last Stop is a sexy, big-hearted romance where the impossible becomes possible as August does everything in her power to save the girl lost in time.
Like many people, I really liked Red, White & Royal Blue. But this? This, I LOVED.
I'm not going to write a big long summary, but the basics are: August is starting over in New York. August meets Jane on the subway and thinks she's keen. August realizes Jane is *always* on the subway. August realizes Jane can't leave the subway. Quest to fix this ensues.
Maybe it's because I recently read a book where backstory and information was repeatedly just dumped in long conversational question/answer sessions, but I am in awe of McQuiston's way with words and how they can compactly convey information that other authors would write a whole page about. In the first chapter, there is a short conversation August has with her mother that conveys everything I needed to know about their relationship at that time; I didn't need every last detail:
"Did you talk to Detective Primeaux today?" August asks. It's the first Friday of the month, so she knows the answer.

"Yeah, nothing new," she says. "He doesn't even try to act like he's gonna open the case back up anymore. Goddamn shame."

"Well," August says. "He's a shit."
Bam! With those three pieces of dialogue, you know that something terrible happened to August's mother (and/or August), the cops aren't interested in doing anything, and they are unhappy about it. I don't need to know the whole story yet, that is enough.
But that's not the only way McQuiston has a way with words. This line, from when August and Jane meet for the first time, had me sending screen shots to all my friends.
She can't believe a tall butch subway angel saw her crying into her coffee tits.
And this great example of August's voice:
Jane laughs, which is rocketing straight up August's list of favorite sounds in the universe. She's gonna trap it in a shell like a sea witch. It's fine.
Overall, this was wholesome and lovely and just made me happy. Not only did I like August and Jane, but I loved the entire cast of supporting characters. It is diverse without making a big deal out of it. The premise is unique. And it just felt good to read it. You want to root for August and Jane, both together and individually. And it makes you want to eat pancakes.
This was no sophomore slump, and I can't wait to see what McQuiston gives us next.
I read this for the following reading challenges:
Other reviews:
"This is a great book. I don't usually read romances, but I made an exception for One Last Stop and it paid off. I enjoyed the sci-fi plot parts of it and found the central couple cute and easily shippable, but the heart and soul of this novel is the group of brilliant weirdos who are there for each other no matter what, whether it's a setting up an impromptu séance, saving a bankrupt pancake house, or committing a few minor crimes in the name of true love." — A Blog of Books and Musicals
"I cannot recommend One Last Stop enough. It's funny, it's sexy, and it gives me all the feels. Plus, it's an important book, because it reminds me of how far things have come for queer people thanks to the protests, organizing, and all the other work that people like Jane have done for us for decades." — Smart Bitches, Trashy Books
"McQuiston really knows how to play with your emotions through her writing. I'm not usually an emotional reader, but I have to admit that I laughed and cried (metaphorically) with the characters." — Your Words My Ink