2018: #28 – Dark Stranger (Heather Graham)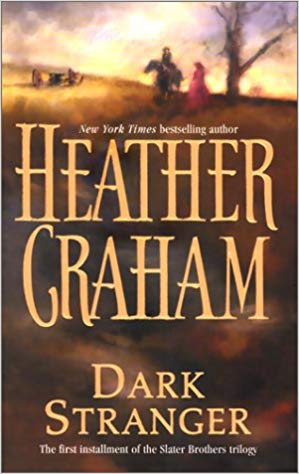 Dark Stranger
by
Heather Graham
Series:
Slater Brothers #01
Published by
Wheeler Publishing
on January 1, 2003
Genres:
historical romance
Pages:
392


Kristin MaCahy's dream of freedom and a life of dignity and self-sufficiency had vanished. All she had left to fight for was her ranch--but she had to give up her independence to do it. She needed Cole Slater's help, but in return she offered the only thing she had--herself. No questions. No answers. Just a bargain.
I thought this was a pretty good romance with an interesting setting. The MaCahy's live in Missouri near the border with Kansas in the last months of the Civil War, an area that is being terrorized by a gang of rogue soldiers. The two daughters are living alone with their farm and home help after their brother has to go fight in the war and their father is murdered by the Raiders. They are themselves being attacked when a (ahem) Dark Stranger rides over the horizon and saves them. Desperate for some protection, the oldest daughter, Kristin, awkwardly makes a deal with the stranger to live with them and protect them from the Raiders. Usual romantic tropes ensue.
Overall, I found this perfectly enjoyable. There are some things in the book that would possibly not make it through the editing process today (some violence between them, some possible consent issues), but nothing so egregious that it pulled me out of the story. The sex isn't the hottest but it's not behind closed doors either. I enjoy Heather Graham, so I'll likely read more in this series.
Other reviews:
"As always, Graham serves up an absorbing tale, one that will capture and hold your interest. I recommend it and all in the trilogy—read them in order as they are related." — Historical Romance Review with Regan Walker