2010: #21 – Already Dead (Charlie Huston)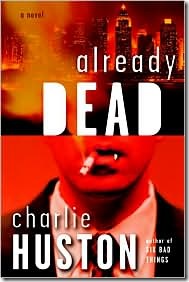 Book #21 was Already Dead, the first book in Charlie Huston's Joe Pitt series.  The back of the book reads:
Those stories you hear? The ones about things that only come out at night? Things that feed on blood, feed on us? Got news for you: they're true. Only it's not like the movies or old man Stoker's storybook. It's worse. Especially if you happen to be one of them. Just ask Joe Pitt.

There's a shambler on the loose. Some fool who got himself infected with a flesh-eating bacteria is lurching around, trying to munch on folks' brains. Joe hates shamblers, but he's still the one who has to deal with them. That's just the kind of life he has. Except afterlife might be better word.

From the Battery to the Bronx, and from river to river, Manhattan is crawling with Vampyres. Joe is one of them, and he's not happy about it. Yeah, he gets to be stronger and faster than you, and he's tough as nails and hard to kill. But spending his nights trying to score a pint of blood to feed the Vyrus that's eating at him isn't his idea of a good time. And Joe doesn't make it any easier on himself. Going his own way, refusing to ally with the Clans that run the undead underside of Manhattan–it ain't easy. It's worse once he gets mixed up with the Coalition–the city's most powerful Clan–and finds himself searching for a poor little rich girl who's gone missing in Alphabet City.

Now the Coalition and the girl's high-society parents are breathing down his neck, anarchist Vampyres are pushing him around, and a crazy Vampyre cult is stalking him. No time to complain, though. Got to find that girl and kill that shambler before the whip comes down . . . and before the sun comes up.
Huston's novels have a rhythm and a flow that makes them nearly impossible to put down, and this was no exception. Surprisingly, there's not too many twists on vampire folklore here — they still need a fairly regular supply of blood, and sunlight is a problem. In rogue-vampyre-cum-problem-solver Joe Pitt's world, Vampyrism is caused by a virus (the Vyrus).  Pitt's struggle in this novel is as much with his Vyrus as it is with the people who are trying to control him — or maybe even kill him. Pitt's supporting Vampyre cast is varied, from the ex-hippie Terry to the businessman Predo to guru Marshall, each approaching Vampyrism in their own unique way. As always, Huston pulls no punches.  His writing is gritty and tough and sometimes gory, and you can't always expect a happy ending. He's created a complex, complicated, and dangerous Manhattan for his main character to navigate, and I'm looking forward to seeing what he has in store next for Joe Pitt.
Other reviews:
Charlie Huston: Already Dead – Book Review
Neth Space: Review: Already Dead by Charlie Huston
Review: Already Dead by Charlie Huston – NextRead
Free Readin' | Already Dead by Charlie Huston | A Dribble of Ink
Page count: 288 | Approximate word count: 86,400
2009: Summer Knight (Jim Butcher)
2008: Mirror Image (Sandra Brown)
2007: The Cater Street Hangman (Anne Perry)
2006: A Caress of Twilight (Laurell K. Hamilton)
2005: The Ersatz Elevator (Lemony Snicket)
Used in these Challenges: The Four Month Challenge; Random Reading Challenge; 2010 100+ Reading Challenge; 2nd Reading Challenge; E-book Reading Challenge; Pages Read Challenge Season 2;