2009: #58 – April & Oliver (Tess Callahan)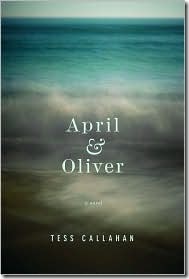 Book #58 was April & Oliver by Tess Callahan.  The back of the book reads:
Best friends since childhood, the sexual tension between April and Oliver has always been palpable. Years after being completely inseparable, they become strangers, but the wildly different paths of their lives cross once again with the sudden death of April's brother. Oliver, the responsible, newly engaged law student finds himself drawn more than ever to the reckless, mystifying April – and cracks begin to appear in his carefully constructed life. Even as Oliver attempts to "save" his childhood friend from her grief, her menacing boyfriend and herself, it soon becomes apparent that Oliver has some secrets of his own–secrets he hasn't shared with anyone, even his fiancé. But April knows, and her reappearance in his life derails him. Is it really April's life that is unraveling, or is it his own? The answer awaits at the end of a downward spiral…towards salvation.
This debut novel is about a lot of things… grief, family, the ebb and flow of friendship (especially those you once thought will last a lifetime), and love (some of it unrequited). I could appreciate the delicateness of a friendship with someone of the opposite sex, and how easy it is to let friendship fade away once life starts to take you in different directions. April and Oliver are unceremoniously thrown back into each others lives following the death of her brother, and everyone seems to expect them to be able to pick up right where they left off.  Unfortunately, they're not the same people they used to be. There is a tug of war between the two of them as April tries to keep her distance, ashamed of who she has turned out to be but clueless as to how to change and as Oliver looks to her for answers to his own questions. I thought it was incredibly sad that the family decided to keep Buddy's death from Nana – doesn't she deserve to grieve too? – but it did add another layer to the story. The ending here falls short of happy (which I think would have felt contrived), but it is nicely hopeful.
Page count: 336 | Approximate word count: 84,000
2008: In the Midst of Death (Lawrence Block)
2007: O is for Outlaw (Sue Grafton)
2006: Fatal (Michael Palmer)
2005: Ten Big Ones (Janet Evanovich)
Used in these Challenges: The Countdown Challenge; 100+ Reading Challenge 2009; 2009 ARC Reading Challenge; 2009 Pub Challenge;