2020: #36 – The Readers of Broken Wheel Recommend (Katarina Bivald)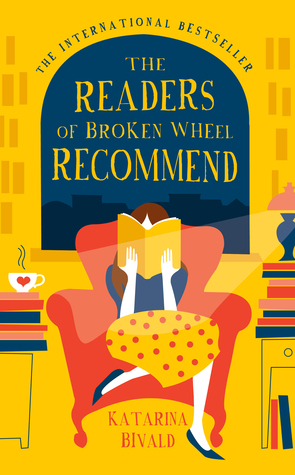 The Readers of Broken Wheel Recommend
by
Alice Menzies
,
Katarina Bivald
Published by
Chatto & Windus
on June 18, 2015
Genres:
literary fiction
Pages:
376


Warning: once you let books into your life, the most unexpected things can happen…

This is a book about books. All sorts of books, from Little Women and Harry Potter to Jodi Picoult and Jane Austen, from to Stieg Larsson to Joyce Carol Oates to Proust. It's about the joy and pleasure of books, about learning from and escaping into them, and possibly even hiding behind them. It's about whether or not books are better than real life.

It's also a book about a Swedish girl called Sara, her elderly American penfriend Amy and what happens when you land a very different kind of bookshop in the middle of a town so broken it's almost beyond repair.

Or is it?

The Readers of Broken Wheel has touches of 84 Charing Cross Road, The Guernsey Literary and Potato Peel Pie Society and Chocolat, but adds an off-beat originality and intelligence all its own.
This book is what I would put in the category of "gentle reads". Nothing particularly bad happens here, unless you count the death of Amy, Sara's penpal. But that death happens off screen and before Sara arrives, so you have no emotional connection to her at the beginning of the story. So what you really have is the story of a small town and its inhabitants, and how they react to a stranger in their midst.
Broken Wheel, Iowa turns out to be a town desperate for something new to happen, so Sara's mere existence in the town is enough to shake things up a bit. But there's not a ton of plot, just a meandering tour through Sara's stay, with a little bit of excitement at the end. I didn't find anything about the book offensive, unless you count a 40-something year old woman thinking she's a hopeless spinster.
This is one of those books that makes a nice palette cleanser after you read something intense.
I read this for the PopSugar Reading Challenge this year — this book fulfilled the "book that has a book on the cover" prompt.
Other reviews:
"All in all, despite my trouble with the ending of the book and all the spoilers, I did really enjoy The Readers of Broken Wheel Recommend. It was such a comforting story, and I loved the way it made me feel inspired. It made me want to read and write ALL the books and left me with a fuzzy and warm feeling." — Books Baking & Blogging
"Perfect for summer days and cold autumn nights, for when life is good and when you need a pick-me-up. This book will cheer you up, no doubt. This book is a sunny day, a hot cup of tea. A warm, summery hug in paperback." — The Reading Hobbit
"To be blunt, I didn't believe this story was possible AT ALL! Sara worked at a bookstore as a clerk so unless she was an heiress to a giant fortune how in the world could she fly to America, spend 2 whole months there AND open a bookstore?! Not to mention this is illegal in the US ? The saving grace of the story is that the quirky town grew on me and Sara's love for books shines through in all her quotes and recommendations to the townspeople." — Mom with a Reading Problem