2019: #33 – All We Ever Wanted Was Everything (Janelle Brown)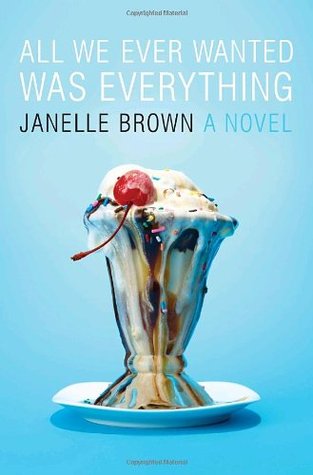 All We Ever Wanted Was Everything
by
Janelle Brown
Published by
Spiegel & Grau
on May 27, 2008
Genres:
literary fiction
Pages:
401


A smart, comic page-turner about a Silicon Valley family in free fall over the course of one eventful summer.

When Paul Miller's pharmaceutical company goes public, making his family IPO millionaires, his wife, Janice, is sure this is the windfall she's been waiting years for — until she learns, via messengered letter, that her husband is divorcing her (for her tennis partner!) and cutting her out of the new fortune.

Meanwhile, four hundred miles south in Los Angeles, the Millers' older daughter, Margaret, has been dumped by her newly famous actor boyfriend and left in the lurch by an investor who promised to revive her fledgling post-feminist magazine, Snatch. Sliding toward bankruptcy and dogged by creditors, she flees for home where her younger sister Lizzie, 14, is struggling with problems of her own. Formerly chubby, Lizzie has been enjoying her newfound popularity until some bathroom graffiti alerts her to the fact that she's become the school slut.

The three Miller women retreat behind the walls of their Georgian colonial to wage battle with divorce lawyers, debt collectors, drug-dealing pool boys, mean girls, country club ladies, evangelical neighbors, their own demons, and each other, and in the process they become achingly sympathetic characters we can't help but root for, even as the world they live in epitomizes everything wrong with the American Dream. Exhilarating, addictive, and superbly accomplished, All We Ever Wanted Was Everything crackles with energy and intelligence and marks the debut of a knowing and very funny novelist, wise beyond her years.
For the Miller family, mo' money definitely equals mo' problems, because after patriarch Paul's stock options make him an obscene amount of money, he quickly files for divorce and runs off with wife Janice's tennis partner. He then disappears for most of the book, but that one decision has wide-reaching ripples.
The Miller women are a mess. Janice, caught unaware by Paul's decision, begins soothing her despair and fueling her need to fill her life with something with little baggies purchased from the pool boy. Adult daughter Margaret, who was already a broke mess on the verge of eviction, takes the opportunity to travel home, neglecting to share that her magazine has gone bust, her Hollywood boyfriend broke up with her, and the creditors have been calling, non-stop. And Lizzie, a high school freshman that seems to be finally finding her place in the world through the swim team, accidentally becomes the school "slut".
The book follows the three women, alternating through their viewpoints, as they try to navigate this new world and figure out what is next for them. The women all have their flaws, though Margaret is probably the most insufferable. She clings so hard to her need to feel independent and like a "true feminist" that she tends to act very selfishly and ignores the harm she's doing to others. Thankfully, with the exception of Margaret, the choices they make largely harm only themselves. Both Janice and Lizzie wallow in their own brands of naivete.
This was a well-done audiobook, and pleasant to listen to, despite the darkness. I ended up enjoying this story more than I expected to.
Other reviews:
"Exposing the ugly underbelly of the American dream, All We Ever Wanted Was Everything is a sometimes funny, sometimes painful look at one very dysfunctional  family, and their struggle to find ways to communicate with each other and to live in a world that is less than perfect.  However, the situations felt kind of dated to me in this time of economic uncertainty, and the 'ick' factor (drugs, teen sex, excess everything) was high." — Books on the Brain