2009: #59 – The Secret Life of Prince Charming (Deb Caletti)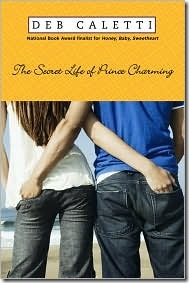 Book #59 was The Secret Life of Prince Charming by Deb Caletti.  The back of the book read:
Maybe it was wrong, or maybe impossible, but I wanted the truth to be one thing. One solid thing.

Quinn is surrounded by women who have had their hearts broken. Between her mother, her aunt, and her grandmother, Quinn hears nothing but cautionary tales. She tries to be an optimist — after all, she's the dependable one, the girl who never makes foolish choices. But when she is abruptly and unceremoniously dumped, Quinn starts to think maybe there really are no good men.

It doesn't help that she's gingerly handling a renewed relationship with her formerly absent father. He's a little bit of a lot of things: charming, selfish, eccentric, lazy…but he's her dad, and Quinn's just happy to have him around again. Until she realizes how horribly he's treated the many women in his life, how he's stolen more than just their hearts. Determined to, for once, take action in her life, Quinn joins forces with the half sister she's never met and the little sister she'll do anything to protect. Together, they set out to right her father's wrongs…and in doing so, begin to uncover what they're really looking for: the truth.

Once again, Deb Caletti has created a motley crew of lovably flawed characters who bond over the shared experiences of fear, love, pain, and joy — in other words, real life.
In many ways, The Secret Life of Prince Charming is a book every young girl should read, before we fall in love (or "love") for the first time.  There's actually a lot of good advice in this book about character traits that maybe one should be wary of when choosing a mate – and really, they're not traits that are exclusive to men. And along the way, there's a sweet story about a teenaged girl who's trying to figure out her (mostly absent) dad, and maybe finds a little love of her own along the way.  I enjoyed the story, especially Quinn's and Sprout's reunion with the half-sister they've never had the chance to know, Frances Lee. What I didn't enjoy was the way little vignettes (I suppose is a good way to describe them) from the older women in the story would show up randomly in the middle of a chapter.  They really interrupted the narrative without adding anything to what was currently happening. I feel they would have been much better placed at the beginning of chapters or in-between them.  But overall, I enjoyed this read.
Page count: 336 | Approximate word count: 67,200
2008: Driving Force (Dick Francis)
2007: Strange Candy (Laurell K. Hamilton)
2006: The Forgotten (Faye Kellerman)
2005: Eleven on Top (Janet Evanovich)
Used in these Challenges: 100+ Reading Challenge 2009; 2009 Pub Challenge;