2009: #63 – Bad Things (Michael Marshall)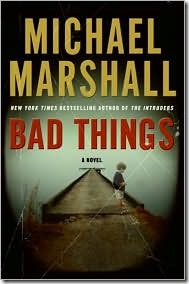 Book #63 was Bad Things by Michael Marshall.  The back of the book reads:
Three years ago, lawyer John Henderson watched his four-year-old son tumble from a jetty into the lake outside their Washington home. In a terrible instant, a life all too brief and innocent ended. But it wasn't drowning, the fall, or even some previously undetected internal defect that killed the little boy. Scott Henderson had simply, inexplicably . . . died.

Today, John is a different man—divorced, living a solitary existence in a beach house in Oregon, working as a waiter in a restaurant that caters to the summer crowd. Withdrawn from a life and past too painful to revisit, he touches no one and no one touches him. Then one night he receives a short and profoundly disturbing e-mail message from a stranger. It reads: I know what happened.

It's enough to pull John back to Black Ridge—the one place on earth he'd hoped never to return to—in search of answers to the mystery that shattered his world. In this small, isolated Pacific Northwest community, populated in large part by descendants of the original settlers, the shadows now seem even darker and more sinister than when tragedy first drove him away—and the wind whipping down out of the primal forest can chill a man to his soul. It seems that bad things have always happened in this town of generations-old secrets—and are happening still.

The deeper John digs into his own past, and into local history, the more danger he draws toward himself . . . and toward his estranged and helpless family. And though he doesn't know it, he's not the only one who's been called back to Black Ridge.

And that's a very bad thing . . .

A twisting, relentlessly thrilling, and consistently surprising novel of psychological suspense, Michael Marshall's Bad Things is a masterwork of chilling brilliance that will keep the reader guessing right to the final page. Bad things don't just happen to other people. They're waiting to happen to you, too.
I liked this, but I didn't love it. It is a slow builder, which is fine, but I think I was looking for more of an underlying, subtle creepy feeling like I got from reading Rosemary's Baby. I never felt like John was in real danger until the end.
John himself is an interesting character. He does what needs to be done without a lot of emotional wrangling, but it's hard to get a good feel for why he is the way he is. Was he always this way, and just masked it when he was married? Or did the death of his son considerably change him? He's very Jack Reacher-ish.
Overall, I liked the concept, and a rather complicated plot is wrapped up pretty nicely in the end. I just thought the execution could have been a little bit better.
Page count: 384 | Approximate word count: 96,000
2008: Key of Light (Nora Roberts)
2007: Born in Death (J.D. Robb)
2006: Dark Angel (Karen Harper)
2005: Godplayer (Robin Cook)
Used in these Challenges: 100+ Reading Challenge 2009;