2009: #69 – The Intimate Adventures of a London Call Girl (Belle de Jour)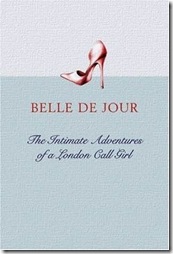 Book #69 (ha! Not on purpose.) was The Intimate Adventures of a London Call Girl by Belle de Jour.  The back of the book reads:
Belle de Jour is the nom de plume of a high-class call girl working in London. This is her story. From debating the literary merits of the works of Martin Amis with naked clients, entering a hotel with two whips strapped to the lining of her coat, and juggling her love-life with her professional one, Belle's no-holds-barred account of her experiences as a prostitute is frank, funny and completely compelling. Since the summer of 2003, Belle's award-winning website has charted her day-to-day adventures on and off the field. In it, she has confessed her triumphs and disasters in the world of dating, introduced readers to her friends N and 'the four As' and chronicled the ins and outs of her working life. Now she elaborates on those diary entries, revealing how she became a working girl, what it feels like to do it for money – and why she can recommend it – and where to buy the best knickers for the job. Sometimes shocking, often hilarious, always thought-provoking, the 'Intimate Adventures' is the story of a 21st-century Moll Flanders, giving us an illuminating glimpse behind the scenes of the high-class sex-trade, and an insight into the secret life of an extraordinary, ordinary woman.
I first became interested in reading this book when I started watching Secret Diary of a Call Girl on Showtime.  I really like Belle's voice.  She's frank, and often funny, and not at all a bad writer.  Do I think all of her stories are true? Not hardly, but who cares?  This was a fun, escapist read.  But if you don't enjoy detailed and explicit talk about all manners of sex, this book is not for you. If you've read this book and enjoyed it, I recommend the Showtime series.  They've managed to capture the voice and attitude perfectly.
Page count: 288 | Approximate word count: 79,053
2008: The Good, the Bad, and the Undead (Kim Harrison)
2007: Death on the Nile (Agatha Christie)
2006: The Deep (Peter Benchley)
2005: Charleston (John Jakes)
Used in these Challenges: 100+ Reading Challenge 2009; The 999 Challenge;