2010: #26 – What Do We Do Now? (Keith Malley & Chemda)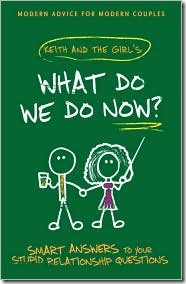 Book #26 was What Do We Do Now?: Keith and The Girl's Smart Answers to your Stupid Relationship Questions by Keith Malley and Chemda. The back of the book reads:
Finally, a modern relationship book for the modern relationship.

What Do We Do Now? is an R-rated, utterly honest Q&A book culled from the best and funniest questions posed by Keith and the Girl devotees, including:

My boyfriend joined the military and is being shipped off for an unknown amount of time. I'm young and I want to move on. Am I a bad person?
Why does my boyfriend always adjust himself in public?
My wife dresses like a slut. How do I make her stop?
My boyfriend's number one friend on MySpace is his ex. Should I be concerned?

With he-said, she-said advice that is both raw and honest, What Do We Do Now? is sure to appeal to the podcast's legion of fans, and attract a brand-new audience tired of the tried-and-not-so-true relationship manuals.
I'm not gonna lie.  If you are easily offended or the slightest bit prudish, don't read this book.  But if you can look at life with a sense of humor and aren't afraid of some cuss words and frank talk about sex and relationships, then you should pick up this book. I've been listening to Keith and the Girl's podcasts for almost a year and the chemistry that makes them so good in audio and on-screen makes them just as good on paper. They tackle topics that range from handling money and household issues to inner and outer beauty to sex and kink to marriage, in-laws, and kids. There's no conventional wisdom here, just straight talk, simple answers, and plenty of laughs.
Other reviews:
Ashley's Library: What Do We Do Now? – Keith and the Girl
Page count: 256 | Approximate word count: 64,000
2009: Soul Catcher (Michael C. White)
2008: Twilight (Stephenie Meyer)
2007: Full House (Janet Evanovich)
2006: Judgement in Death (J.D. Robb)
2005: The Sigma Protocol (Robert Ludlum)
Used in these Challenges: The Four Month Challenge; Countdown Challenge 2010; 2010 100+ Reading Challenge; 2010 Pub Challenge; New Author Challenge 2010; Pages Read Challenge Season 2; TwentyTen Challenge;