2009: #74 – Fluke (Christopher Moore)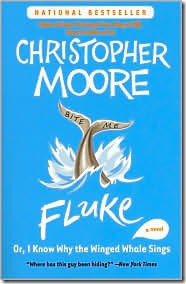 Book #74 was Fluke by Christopher Moore.  The back of the book reads:
Just why do humpback whales sing? That's the question that has marine behavioral biologist Nate Quinn and his crew poking, charting, recording, and photographing very big, wet, gray marine mammals. Until the extraordinary day when a whale lifts its tail into the air to display a cryptic message spelled out in foot-high letters: Bite me.

Trouble is, Nate's beginning to wonder if he hasn't spent just a little too much time in the sun. 'Cause no one else on his team saw a thing — not his longtime partner, Clay Demodocus; not their saucy young research assistant; not even the spliff-puffing white-boy Rastaman Kona (né Preston Applebaum). But later, when a roll of film returns from the lab missing the crucial tail shot — and his research facility is trashed — Nate realizes something very fishy indeed is going on.

By turns witty, irreverent, fascinating, puzzling, and surprising, Fluke is Christopher Moore at his outrageous best.
This is my third Christopher Moore book, and I liked it almost as much as A Dirty Job (and much, much more than The Stupidest Angel).  This had a lot of Moore's trademark humor, but it also had a bit of a serious side as he tackled the issue of whale conservation.  In that way, it reminded me a lot of a Carl Hiaasen. At the beginning, it was a little difficult to keep the supporting characters straight, especially the women, but it all shakes out as the story goes on. We listened to the audio production, which really brought the book to life.  The delivery of Kona's parts had us laughing many times. Moore continues to be our favorite author for long car trips.
Audiobook length: 9hrs 46min | Word count: 97,777
2008: The Face of a Stranger (Anne Perry)
2007: Love and War (John Jakes)
2006: Outlander (Diana Gabaldon)
2005: Hornet Flight (Ken Follett)
Used in these Challenges: 100+ Reading Challenge 2009;