2010: #92 – Bloodletting & Miraculous Cures (Vincent Lam)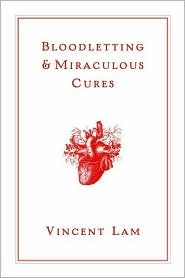 Book #92 was Bloodletting & Miraculous Cures by Vincent Lam.  The back of the book reads:
Provocative, heartbreaking, and darkly humorous, Bloodletting & Miraculous Cures introduces readers to a masterful new voice in fiction. A practicing ER physician, Vincent Lam delivers a precise and intimate portrait of the medical profession in his fiction debut. These twelve interwoven stories follow a group of young doctors as they move from the challenges of medical school to the intense world of emergency rooms, evacuation missions, and terrifying new viruses. Winner of the prestigious Giller Prize, Bloodletting & Miraculous Cures marks the arrival of a deeply humane and preternaturally gifted writer.

Fitz, Ming, Chen, and Sri are the four ambitious protagonists of Bloodletting & Miraculous Cures. They fall in love as they study for their exams, face moral dilemmas as they split open cadavers, confront police who rough up their patients, and treat schizophrenics with pathologies similar to their own. In one harrowing story set amidst the 2003 SARS crisis, which the author witnessed firsthand, two of these doctors suddenly become the patients.

Bloodletting & Miraculous Cures invites us into a world where the ordinary becomes the critical in a matter of seconds. A formidable debut, it is a profound and unforgettable depiction of today's doctors, patients, and hospitals.
I thought this was really interesting.  It's more a collection of short stories than a novel, and each story focuses on a different member of the core group of doctors. Despite being in medical school together, they don't always travel in the same circles.  But, practicing in the same city, their paths cross from time to time, often in very interesting ways. There's love and death, success and failure.
I listened to the book on audio, and was amused by the production. The narrator portrayed each character with their expected accent, and it walked the line between useful and overdone.  I'm still not quite sure what to think of it.  I almost felt like I should be offended on someone else's behalf. Despite that, I enjoyed the listen.
Audiobook length: 8hrs 22min | Approximate word count: 90,500
2009: The Big Steal (Emyl Jenkins)
2008: Degree of Guilt (Richard North Patterson)
2007: When the Bough Breaks (Jonathan Kellerman)
2006: 4th of July (James Patterson)
Used in these Challenges: 2010 100+ Reading Challenge; Audiobook Challenge;