2019: #16 – Whispering Rock (Robyn Carr)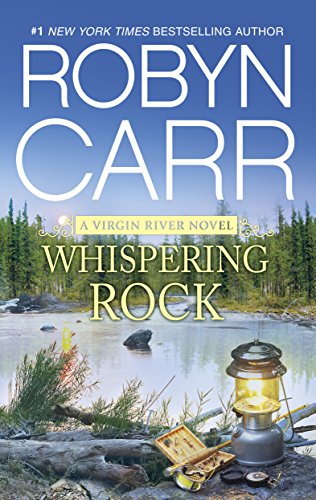 Whispering Rock
by
Robyn Carr
Series:
Virgin River #03
Published by
Wheeler
on December 5, 2007
Genres:
contemporary romance
Pages:
517


Also by this author:
A Virgin River Christmas
,
Deep in the Valley
,
Just Over the Mountain
,
Down by the River
,
One Wish
Also in this series:
A Virgin River Christmas
A decorated U.S. Marine reservist, LAPD officer Mike Valenzuela was badly wounded in the line of duty, but has found hope and healing in Virgin River. When he agrees to become the town's first cop, he does so knowing it's time he settled down. Twice divorced and the lover of too many women, he secretly longs for the kind of commitment and happiness his marine buddies have found-- a woman who can tie up his heart forever. He finds that woman in Brie Sheridan, a Sacramento prosecutor who understands his drive to protect and serve. Virgin River becomes a safe haven for Brie after nearly losing her life at the hands of a crazed criminal. Though tough and courageous, she's got some fears she can't escape-- but now she has someone who will show her just what it means to trust again. Mike will do anything to help Brie free herself from painful memories. Passionate, strong and gentle, he vows to give back to her what she's so selflessly given him-- her heart, and with it, a new beginning.
There is a LOT going on in this book, and I don't think it served it well.
First, you have the main characters, Mike and Brie. Mike is a Marine/retired LAPD cop who is in Virgin River after being shot on the job and needing a good place to recover. Brie is the sister of his good friend Jack. She was a prominent prosecutor until being attacked raped by a man she couldn't convict (not really a spoiler, it happens first thing in the book). They spend the whole book dancing around each other as Mike (also a victim of a violent crime) tries to gently help her recover and hopes she'll fall in love with him a long the way. Which, duh.
But along with them there are so many other things going on. There's Jack and Mel's story. There's Preacher and Paige. There's the General, Vanessa, and Tommy. There's Tommy and his girlfriend Brenda. There's Jack and Mike's friend Paul. There's something sinister happening among the area teens. And we'll throw in a couple of other townspeople for good measure. IT'S TOO MUCH.
I think the love story really suffered from lack of conflict. Sure, there is some external conflict affecting both Mike and Brie, but there is absolutely no conflict between the two of them. I need a little spice with my sugar, please.
Overall, it's not bad, just not the best. I like Robyn Carr's books if I want a pleasant, gentle romance with interconnecting characters, but I guess this one was just a little too gentle. I'll definitely read more (I've already started the next one).
Other reviews:
"I love visiting Virgin River – I feel that I have been given an opportunity to really know these characters and the town of Virgin River personally and am already looking forward to my next visit!" — Always With a Book
"I loved Brie and Mike, and I really enjoyed all the other storylines as well, some more than others, but that's a given." — The Hope Chest Reviews
"I enjoyed WHISPERING ROCK as much as the first two books – 5 stars all around! Emotional stories, complex characters, romance, and a touch of suspense. Highly recommended!" — Book of Secrets