2009: #94 – Good in Bed (Jennifer Weiner)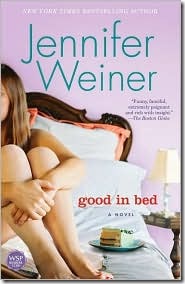 Book #91 was Good in Bed by Jennifer Weiner. The back of the book reads:
For twenty-eight years, things have been tripping along nicely for Cannie Shapiro. Sure, her mother has come charging out of the closet, and her father has long since dropped out of her world. But she loves her friends, her rat terrier, Nifkin, and her job as pop culture reporter for The Philadelphia Examiner. She's even made a tenuous peace with her plus-size body.

But the day she opens up a national women's magazine and sees the words "Loving a Larger Woman" above her ex-boyfriend's byline, Cannie is plunged into misery…and the most amazing year of her life. From Philadelphia to Hollywood and back home again, she charts a new course for herself: mourning her losses, facing her past, and figuring out who she is and who she can become.
Weiner is known for her "plus-sized girls can have happy endings too" books, but the first one of hers I read (Goodnight Nobody) wore me out with the main character's constant whinging about her thighs. Wore me out enough that I waited over three years before I read another.  Thankfully, I liked Cannie much much more.  Cannie's thoughts and feelings and actions felt more authentic.  The book takes a couple of big turns that I definitely wasn't expecting. I didn't even see the love interest coming! Overall, I enjoyed this and won't wait so long this time to read another novel by Weiner.
Page count: 400 | Word count: 125,088
2008: Living with the Truth (Jim Murdoch)
2007: Northern Lights (Nora Roberts)
2006: A Child Called "It" (Dave Pelzer)
Used in these Challenges: 100+ Reading Challenge 2009; 2nds Challenge;