2011: #3 – Labor Day (Joyce Maynard)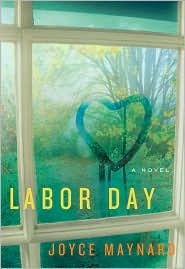 Book #3 was Labor Day by Joyce Maynard.  The back of the book reads:
With the end of summer closing in and a steamy Labor Day weekend looming in the town of Holton Mills, New Hampshire, thirteen-year-old Henry—lonely, friendless, not too good at sports—spends most of his time watching television, reading, and daydreaming about the soft skin and budding bodies of his female classmates. For company Henry has his long-divorced mother, Adele—a onetime dancer whose summer project was to teach him how to foxtrot; his hamster, Joe; and awkward Saturday-night outings to Friendly's with his estranged father and new stepfamily. As much as he tries, Henry knows that even with his jokes and his "Husband for a Day" coupon, he still can't make his emotionally fragile mother happy. Adele has a secret that makes it hard for her to leave their house, and seems to possess an irreparably broken heart.

But all that changes on the Thursday before Labor Day, when a mysterious bleeding man named Frank approaches Henry and asks for a hand. Over the next five days, Henry will learn some of life's most valuable lessons: how to throw a baseball, the secret to perfect piecrust, the breathless pain of jealousy, the power of betrayal, and the importance of putting others—especially those we love—above ourselves. And the knowledge that real love is worth waiting for.

In a manner evoking Ian McEwan's Atonement and Nick Hornby's About a Boy, acclaimed author Joyce Maynard weaves a beautiful, poignant tale of love, sex, adolescence, and devastating treachery as seen through the eyes of a young teenage boy—and the man he later becomes—looking back at an unexpected encounter that begins one single long, hot, life-altering weekend.
I had mixed feelings about this book. In one way, it's a gentle story about love and a teenaged boy who has had to be the adult for way too long.  On the other hand, it feels a little contrived.  A woman and her son bring into their home a strange man without even a flicker of worry or doubt or suspicion?  Even before they find out he's an escaped convict, you'd expect the situation to raise some flags. But, if you can accept the premise, the story of their Labor Day weekend does its job to pull you through.  You can understand Henry's swinging emotions about the situation — after all, he's still a child — and his mother's ability to fall in love so easily. Do we believe Frank's story?  All that matters is that Adele believes it.
Where the book really lost me was in the chapters following the climax of the novel. I think way too much was said about the resolution, and the story would have been even more compact and powerful if that section had been cut into a single chapter. 
Overall, I'm not sorry I read it, but I think it could have been better with a minimum amount of work.
This was a review copy.
Page count: 272 ('11 total: 688) | Approx. word count: 68,000 ('11 total: 277,600)
2010: Lamb (Christopher Moore)
2009: Lord John and the Brotherhood of the Blade (Diana Gabaldon)
2008: Lord John and the Private Matter (Diana Gabaldon)
2007: No Second Chance (Harlan Coben)
2006: Lost Innocents (Patricia MacDonald)
2005: 3rd Degree (James Patterson)
Used in these Challenges: Countdown Challenge 2011; ARC Reading Challenge 2011; New Author Challenge 2011; Outdo Yourself Reading Challenge 2011;