2009: #85 – Megan's Mate (Nora Roberts)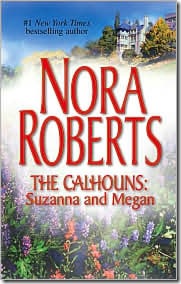 Book #85 was Megan's Mate, the final book in Nora Roberts' Calhoun Women series.  The back of the book reads:
Calhoun sister-in-law Megan O'Riley and her young son had traveled far to become the Towers' newest residents. Cool as an Atlantic breeze, Megan buried her passions and vowed never to let her heart control her life. But when boat captain Nate Fury set his course for her, the practical lady was swept away by his formidable charm.
This final installment in the series was much more romance than mystery. At this point, the mystery of what happened to Bianca has been solved, her emeralds have been recovered, and the hotel has been finished and is opened. Megan, who is not a Calhoun sister, but a sister-in-law, and whose son shares a father with Suzanna's children, has come to join the family and work at the hotel.  This book tells her love story, with a few problems with her son's father thrown in.  It was a good epilogue to the series, as we get to see how each of the Calhoun matches have turned out.
Page count: 248 | Approximate word count: 62,000
2008: Every Which Way But Dead (Kim Harrison)
2007: Raise the Titanic! (Clive Cussler)
2006: Glory in Death (J.D. Robb)
Used in these Challenges: 100+ Reading Challenge 2009; Read Your Own Books Challenge;