2020: #3 – Persepolis: The Story of a Childhood (Marjane Satrapi)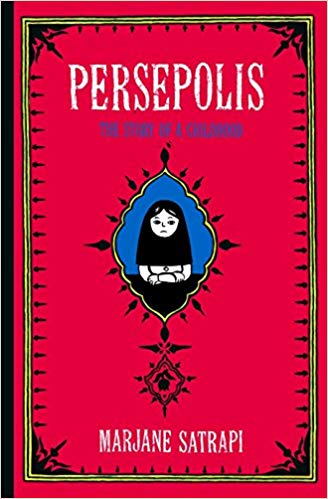 Persepolis: The Story of a Childhood
by
Marjane Satrapi
Series:
Persepolis #01
Published by
Pantheon
on April 29, 2003
Genres:
graphic novel
,
memoir
,
young adult
Pages:
153


Originally published to wide critical acclaim in France, where it elicited comparisons to Art Spiegelman's Maus, Persepolis is Marjane Satrapi's wise, funny, and heartbreaking memoir of growing up in Iran during the Islamic Revolution. In powerful black-and-white comic strip images, Satrapi tells the story of her life in Tehran from ages six to fourteen, years that saw the overthrow of the Shah's regime, the triumph of the Islamic Revolution, and the devastating effects of war with Iraq. The intelligent and outspoken only child of committed Marxists and the great-granddaughter of one of Iran's last emperors, Marjane bears witness to a childhood uniquely entwined with the history of her country.

Persepolis paints an unforgettable portrait of daily life in Iran: of the bewildering contradictions between home life and public life and of the enormous toll repressive regimes exact on the individual spirit. Marjane's child's-eye-view of dethroned emperors, state-sanctioned whippings, and heroes of the revolution allows us to learn as she does the history of this fascinating country and of her own extraordinary family. Intensely personal, profoundly political, and wholly original, Persepolis is at once a story of growing up and a stunning reminder of the human cost of war and political repression. It shows how we carry on, through laughter and tears, in the face of absurdity. And, finally, it introduces us to an irresistible little girl with whom we cannot help but fall in love.
I've been meaning to read this for a long time, and I'm glad I finally got around to it!
Persepolis is the story of a piece of Marjane Satrapi's childhood, beginning during the Islamic Revolution in Iran when she was 6 and ending at age 14, when her parents send her away. I really only had the very barest of knowledge about the Islamic Revolution, and the book is eye-opening. Life gets hard for Marjane's family, though admittedly it is not as hard for them as it is very many others. They are lucky enough to have their immediate family remain intact — something that isn't true about many others in their orbit.
If you've also been meaning to read this, go ahead and pick it up. I read it in about an hour, and it was well worth it.
I read this for the Read Harder 2020 challenge (read a graphic memoir).
Other reviews:
"This book illustrates a realism which readers can connect to. I wish more authors would come out with books that share their cultures. I believe people find interest in learning about first hand experiences." — JCarmell's Blog
"I cannot say I 'enjoyed' this book as it explores some difficult subject matter – but I did find it compelling and informative. Sartrapi's images are simple, clear and direct. The format of a graphic novel was the perfect medium for a memoir such as this…and I think it made the subject matter that more powerful." — Blue Thistle