2009: Challenges – 100+ Reading Challenge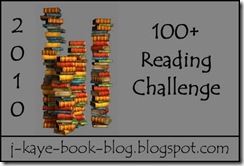 The 2010 100+ Reading Challenge is hosted by J.Kaye. Here are the guidelines:
The goal is to read 100 or more books. Anyone can join. You don't need a blog to participate. –Non-Bloggers: Post your list of books in the comment section of the wrap-up post. To learn how to sign up without having a blog, click here.
Audio, Re-reads, eBooks, YA, Library books, Young Reader, Nonfiction — as long as the book has an ISBN or equivalent or can be purchased as such, the book counts.
No need to list your books in advance. You may select books as you go. Even if you list them now, you can change the list if needed.
Crossovers from other reading challenges count.
Challenge begins January 1st thru December, 2010. Books started before the 1st do not count.
When you sign up under Mr. Linky, put the direct link to your post where your books will be listed. Include the URL to this post so that other viewers can find this fun challenge. If you'd prefer to put your list in the sidebar of your blog, please leave your viewers the link to the sign up page. Again, so viewers can join the challenge too.
Sign up is at J. Kaye's Book Blog! My list will be below — I'm choosing an extremely (for me) ambitious goal of 144 books, because I am participating in a challenge to read 144 books on GoodReads.
last updated 12/30/10
The First Rule – Robert Crais 
Shogun – James Clavell
Lamb – Christopher Moore 
Night Fire – Catherine Coulter
Bird by Bird – Anne Lamott
Little Children – Tom Perrotta
Pacific Vortex! – Clive Cussler
Tongue in Chic – Christina Dodd 
Forbidden Falls – Robyn Carr 
What to Expect Before You're Expecting – Heidi Murkoff
Kitty Takes a Holiday – Carrie Vaughn
Eat This, Not That – David Zinczenko
No One You Know – Michelle Richmond 
The Kitchen House – Kathleen Grissom
Heat Wave – Richard Castle
Ivory Tower Cop – George Kirkham & Leonard Territo
Outrageous – Christina Dodd
Anthem – Ayn Rand
London Bridges – James Patterson
Gossip of the Starlings – Nina de Gramont
Already Dead – Charlie Huston
The Seventh Commandment – Lawrence Sanders
Black Seconds – Karin Fossum
Shakespeare's Landlord – Charlaine Harris
The Lust Lizard of Melancholy Cove – Christopher Moore
What Do We Do Now? – Keith Malley & Chemda
Rest in Pieces – Rita Mae Brown
Hit and Run Holiday – Carolyn Keene
Food Rules: An Eater's Manual – Michael Pollan
Desert Heat – J.A. Jance
White Witch, Black Curse – Kim Harrison
Definitely Dead – Charlaine Harris
A Stab in the Dark – Lawrence Block
A Lesson Before Dying – Ernest J. Gaines
Murder at the Vicarage – Agatha Christie
Dark Entries – Ian Rankin
In Ecstasy – Kate McCaffrey
Inner Harbor – Nora Roberts
Beneath a Blood Red Moon – Shannon Drake
Murder at Monticello – Rita Mae Brown
So Much For That – Lionel Shriver 
Strawberry Shortcake Murder – Joanne Fluke
Stalking the Angel – Robert Crais
Chasing the Dime – Michael Connelly 
Shelter Mountain – Robyn Carr 
A Reliable Wife – Robert Goolrick
The Girl Who Kicked the Hornet's Nest – Stieg Larsson 
Horns – Joe Hill 
The Beach House – Jane Green 
Voices – Arnaldur Indridason 
Back to the Bedroom – Janet Evanovich
Pay Dirt – Rita Mae Brown
Worst Case – James Patterson 
Characters, Emotion & Viewpoint – Nancy Kress
Killing Orders – Sara Paretsky
Chenxi and the Foreigner – Sally Rippin
Possessed – Kate Cann 
Just Before Sunrise – Carla Neggers
Cleanskin – Val McDermid
All Together Dead – Charlaine Harris 
From Dead to Worse – Charlaine Harris 
Undertow – Sydney Bauer
Dead and Gone – Charlaine Harris
Dead in the Family – Charlaine Harris 
See Jane Write – Sarah Mlynowski & Farrin Jacobs
Standoff – Sandra Brown
The Anniversary Man – R.J. Ellory 
Flirt – Laurell K. Hamilton
Broken – Karin Slaughter
Fool – Christopher Moore
The Black Ice – Michael Connelly
Tell Me Lies – Jennifer Crusie
Metro Girl – Janet Evanovich
Smoke Screen – Sandra Brown 
Heat Lightning – John Sandford 
Snow Flower and the Secret Fan – Lisa See
The Secret of Ka – Christopher Pike
Catering to Nobody – Diane Mott Davidson
Banker – Dick Francis
Stalking Susan – Julie Kramer
Broken – Karin Fossum
Time Was – Nora Roberts
Baltimore Blues – Laura Lippman
The Clinic – Jonathan Kellerman
Saving Max – Antoinette van Heugten
The Sands of Time – Sidney Sheldon
Mockingjay – Suzanne Collins
The Eye of the Needle – Ken Follett
Black Hills – Nora Roberts
Sizzling Sixteen – Janet Evanovich
Without Mercy – Lisa Jackson
Bloodletting & Miraculous Cures< /em> – Vincent Lam
Morrigan's Cross – Nora Roberts
Tapestry of Love – Rosy Thornton
Abandon – Carla Neggers
Revenge of the Spellmans – Lisa Lutz
Don't Look Down – Jennifer Crusie & Bob Mayer
Lake Magic – Kimberly Fisk
How to Write Killer Fiction – Carolyn Wheat
The Strain – Guillermo del Toro & Chuck Hogan
Hollywood is Like High School With Money – Zoey Dean
All He Ever Wanted – Anita Shreve
Charley's Web – Joy Fielding
At Home: A Short History of Private Life – Bill Bryson
Gone, Baby, Gone – Dennis Lehane
Reckless – Andrew Gross
You Suck – Christopher Moore
The Help – Kathryn Stockett