2011: Challenges – New Author Challenge 2011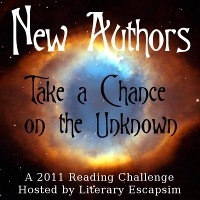 Last challenge for now!  I'm really cutting back this year. We'll see what else pops up in the next week or so.  This one is the New Author Challenge, hosted once again by Literary Escapism. I especially liked this challenge last year.
The usual challenge guidelines apply.  You can choose to try 15, 25, or 50 new authors.
Sign-up on the challenge post! I'm shooting for 25 new authors.  My list will be below.
last updated: 8/15/11