2012: Monday Salon – What do you mean it's January?
Happy New Year! Okay, so I'm a little bit late. I've been trying to get my ducks in a row this new year, and so far I'm failing pretty miserably.
Christmas in the desert was good. I was either looking at stuff like this: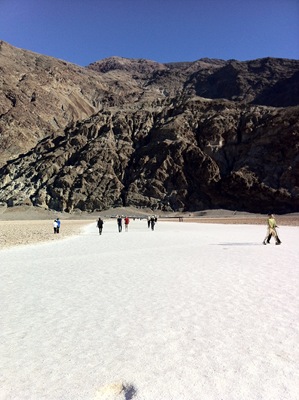 Death Valley — Lowest point in the Western Hemisphere
Or stuff like this: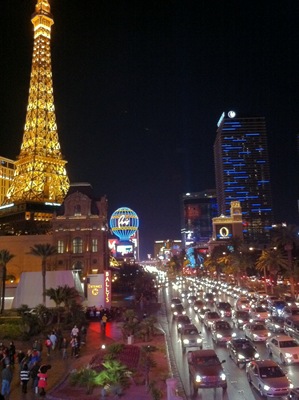 Vegas, Baby!
Overall, it was a pretty good trip. The weather was beautiful (cool in the mornings and evenings, but 60s during the day) and the gambling gods were benevolent for at least part of the week. This was our first time in Las Vegas in a month other than August, and we couldn't get over how crowded it was. Turns out, not as many people are interested in Vegas when it's 112 degrees out. We left the strip on Friday, as most of the New Year's crowd started streaming in. Crushing crowds of people give me The Panic, so I was not at all sad about flying home on New Year's Eve.
Scott took his parents on a hot-air balloon ride for their Christmas present, and as a twist they actually had sky-divers jumping out of the balloon. They went all the way up to 5500 feet, which is much higher than Scott and I went on our ride this summer.
But now I'm home, and it's time to buckle down.
2011 was a really rough year for me. Or at least, the 2nd half of it was. We had a lot of extended family issues that have bogged me down quite a bit, and I think my dour mood is what put the kibosh on a lot of my reading this past year. Even with the books I haven't yet reviewed, I only read a total of 79 books, really low for me.
The books I have waiting to be reviewed are:
The Cut – George Pelecanos

Dead Beat – Jim Butcher

The Boy in the Striped Pajamas – John Boyne

The Red Queen – Margaret Drabble

Likely to Die – Linda Fairstein

Silent Night – Mary Higgins Clark

The Nerdist Way – Chris Hardwick

A Dangerous Mourning – Anne Perry

Fly Away Home – Jodi Picoult

(2012) A Perfect Blood – Kim Harrison
I am off to a good start with my reading this month. Not only have I finished A Perfect Blood, I'm almost finished Moloka'i by Alan Brennert and Shakespeare's Champion by Charlaine Harris (on audio). Moloka'i is my book club read for this month, and I've been pleasantly surprised by it.
So my theme for 2012 is "simplicity". I'm not doing any challenges, and I'm focusing on books I really want to read. No more getting stuck in endless book club reads or review books when they're not working for me. (Though I'm definitely not giving up my book club!) I'm also trying to get myself involved in fewer personal projects so I can clear my plate for more writing. I have a short story being published this year, and it would be lovely to have added to it by this time next year.
With any luck, I will have all of my books reviewed by the end of the week! Don't be surprised when the first 9 are back-dated to 2011.