2009: #116 – How to Say Goodbye in Robot (Natalie Standiford)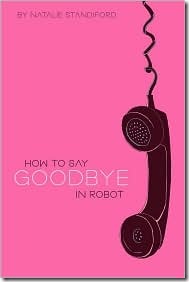 Book #116 was How To Say Goodbye in Robot by Natalie Standiford.  The back of the book reads:
New to town, Beatrice is expecting her new best friend to be one of the girls she meets on the first day. But instead, the alphabet conspires to seat her next to Jonah, aka Ghost Boy, a quiet loner who hasn't made a new friend since third grade. Something about him, though, gets to Bea, and soon they form an unexpected friendship. It's not romance, exactly – but it's definitely love. Still, Bea can't quite dispel Jonah's gloom and doom – and as she finds out his family history, she understands why. Can Bea help Jonah? Or is he destined to vanish?
I thought this was a touching story… a little bit coming of age, a little bit romance.  Bea has moved to a new town and is starting in a new school for her senior year of high school.  Fate, the alphabet, and a shared affinity for late night radio call-in shows lead her to a tentative-at-first friendship with the Ghost Boy, Jonah, who has long been the misfit of the class. Bea is a bit of a misfit herself, not really interested in the usual teenaged girl things and saddled with a couple of parents that are far to involved with their own problems to really pay much attention to her. I really liked this story, though the ending is a bit bittersweet.  I did have one problem with it…. I didn't like how casual underaged drinking was in this book.  I know that it happens, a lot, but I don't think that a book that is marketed to young adults should treat it in such a "this is normal, everyone does it!" way. And though I've spent a fair amount of time in Baltimore, I don't really believe that there are business establishments in this day and age where 17 year olds can waltz in and buy alcohol on a regular basis.
This book was a review copy.
Other reviews:
Kids Lit » Blog Archive » How to Say Goodbye in Robot
3 Evil Cousins: How to Say Goodbye in Robot by Natalie Standiford
Killin' Time Reading: How to Say Goodbye in Robot; Natalie Standiford
Page count: 288 | Approximate word count: 72,000
2007: Straight Into Darkness (Faye Kellerman)
Used in these Challenges: Countdown Challenge 2010;