2009: Challenges – Contemporary Romance Reading Challenge 2010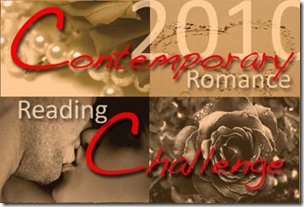 The Contempory Romance Reading Challenge 2010 is hosted by Pearl's World of Romance. Here are the guidelines:
Read at least 10 contemporaries between January 1, 2010 and December 31, 2010
You don't have to pre-select your books, you can just add them as you go. Even if you list them now, you can change the list if needed. Nothing is set in stone! Also, the books you choose can crossover into or from other challenges you are participating in.
Feel free to grab the button for the sidebar of your blog. It would be great if you would link it back to this post so others can find their way back to this post and join the challenge.
If you decide to join this challenge be sure to create a post telling others and feel free to add a link back to this post so others can join in the fun.
I will be creating review posts where you can link your own reviews, but reviews are optional.
And here is what Pearl has to say about what qualifies as Contemporary Romance:
Before I list the details, I do want to make one thing clear: by contemporary romance I mean straight contemporary, so without paranormal, fantasy or time-travel elements. Sexy, steamy contemporaries are eligible and so are category romances. (i.e. Harlequin Blaze, Harlequin Presents, Harlequin Super Romances, Silhoutte Desires, etc.)
Sign up is at Pearl's World of Romance! My list will be below:
list updated 12/5/10
Tongue in Chic – Christina Dodd   
Forbidden Falls – Robyn Carr   
Inner Harbor – Nora Roberts 
Shelter Mountain – Robyn Carr   
Back to the Bedroom – Janet Evanovich 
Just Before Sunrise – Carla Neggers 
Time Was – Nora Roberts 
Lake Magic – Kimberly Fisk