2009: Challenges – The Audiobook Challenge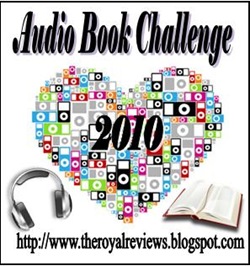 The Audiobook Challenge, formerly hosted by J.Kaye and now hosted by Royal Reviews, is all about audiobooks, which I listen to almost daily. That's what comes of having a 40 mile commute! Here are the guidelines:
Anyone can join. You don't need a blog to participate. 
There are four levels:

Curious — Listen to 3 Audio Books.
Fascinated — Listen to 6 Audio Books.
Addicted — Listen to 12 Audio Books.
Obsessed — Listen to 20 Audio Books.

Audiobooks only.
You can list your books in advance or just put them in a wrap up post. If you list them, feel free to change them as the mood takes you.
Challenge begins January 1st thru December, 2010. Only books started by January 1st count towards this challenge.
When you sign up under Mr. Linky, put the direct link to the post about the Audiobook Challenge. Include the URL so that other participants can find join in and read your reviews and post.
Sign up is at Royal Reviews! My list will be below — I'm choosing the Obsessed option:
last updated 12/29/10
Tongue in Chic – Christina Dodd   
Black Seconds – Karin Fossum
The Lust Lizard of Melancholy Cove – Christopher Moore 
White Witch, Black Curse – Kim Harrison 
Inner Harbor – Nora Roberts 
A Reliable Wife – Robert Goolrick 
The Beach House – Jane Green   
Undertow – Sydney Bauer 
Fool – Christopher Moore 
Smoke Screen – Sandra Brown   
Stalking Susan – Julie Kramer 
Baltimore Blues – Laura Lippman 
Black Hills – Nora Roberts 
Bloodletting & Miraculous Cures – Vincent Lam 
Don't Look Down – Jennifer Crusie & Bob Mayer  
At Home: A Short History of Private Life – Bill Bryson
You Suck – Christopher Moore