2009: Challenges – Random Reading Challenge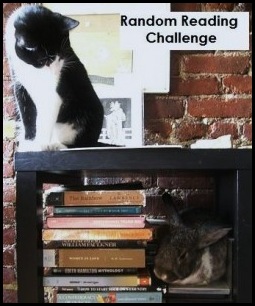 If ever there was a challenge made for me, this is it.
CaribousMom is hosting the Random Reading Challenge, where you choose your next book to read randomly. This is how I prefer to do things! Before I had a review stack to whittle down, I would choose my next book to read randomly from my personal book database. In fact, I built a mechanism into my database that let me hit a link and get a random result.  So yeah, this challenge is perfect for me.
Here are the details!
For this challenge, readers will be choosing books randomly from their TBR stacks. You may select one of three levels of participation:
Level I:
You are just a tad compulsive about your reading – you love your lists and schedules. Being spontaneous is not something that comes naturally to you.  To complete the challenge, force yourself out of your rut and read just six books.
Level II:
You really want to break away from all those lists, but you do still have a responsibility to your reading groups, other challenges and all those review books. Six books is too little, but twelve is too much. Stretch a little and read nine books for the challenge.
Level III:
Throw away the lists, don't look at your schedule, bring on the joy that comes with the freedom to chose books randomly. Read twelve books for the challenge.
Rules:
NO lists allowed. Books for the challenge are chosen one at a time when the mood strikes.
Sign up at any time during the challenge period using Mr. Linky below. Please give me a direct link to your blog post about the challenge. If you do not have a blog, no worries. Simply enter your name and leave the URL box on Mr. Linky blank.
Book reviews are not required, but if you want to write a review I will be providing a review Mr. Linky after August 1st.
Books are selected one at a time using the following procedure:
Randomly select any number of books from either your physical OR your virtual TBR pile (I don't care how you do this, but it must be random…no "cherry picking" allowed)
Assign a number to each book based on how many books you selected (ie: if you selected 14 books, assign each book a number from 1 through 14; if you selected 28 books, assign each book a number from 1 through 28…you get the idea)
Go to THIS SITE and use the TRUE RANDOM NUMBER GENERATOR located in the upper right hand corner of the page to randomly select the book you will read. NO CHEATING – whatever the random number generator generates is the book you must read!
Each time you select a book for the challenge, you will use this procedure. You many select different books each time, choose a different amount of books each time, etc…have fun, mix it up, keep it random.
CaribousMom will also be giving away at least one prize during the challenge, which runs from August 1, 2009 – July 31, 2010.
I will be doing Level III (12 books). My list will be here! last updated 4/9/10
Hunter's Moon – C.T. Adams & Cathy Clamp
Glass Houses – Rachel Caine
Shogun – James Clavell
Kitty Takes a Holiday – Carrie Vaughn
Heat Wave – Richard Castle
Ivory Tower Cop – George Kirkham & Leonard Territo
Outrageous – Christina Dodd
London Bridges – James Patterson
Already Dead – Charlie Huston
The Seventh Commandment – Lawrence Sanders
Shakespeare's Landlord – Charlaine Harris
Rest in Pieces – Rita Mae Brown