2009: Challenges – Sookie Stackhouse Reading Challenge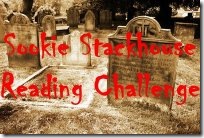 A challenge about Sookie? How can I resist?
The Sookie Stackhouse Reading Challenge is being hosted by Beth Fish Reads.
The Rules:
Between July 1, 2009, and June 30, 2010, catch up on Charlaine Harris's Southern Vampire series. No matter if you're starting with book 1 or book 8, you have a year to read all about Sookie. Read Sookie in print, listen to the audio, read an eBook — format is not an issue.
Sign up using Mr. Linky (on the challenge page here).
After July 4, Beth will create a post with another Mr. Linky where you can link your reviews so everyone can read them track your progress.
The Books: last updated 6/30/10
If you're on Twitter, the challenge is using the hashtag #SookieSRC (for Sookie Stackhouse Reading Challenge). Feel free to join in #SookieSRC conversations whenever you see them.
There are also Sookie and gang short stories and an up-coming anthology! For more, see Charlaine Harris's website.
I've already read the first four, so I'm ahead of the game! I've linked my reviews.