2009: #18 – China Lake (Meg Gardiner)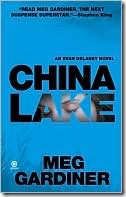 Book #18 was China Lake, the first book in Meg Gardiner's Evan Delaney series.  The back of the book reads:
Evan Delaney learns that not only has her ex- sister-in-law joined a religious cult, but the unstable young mother plans to regain custody of her son and disappear with him into the fold of the fanatical group. But when murder raises the stakes, Evan is dragged even deeper into the nightmare.
If you love suspense, you need to go out immediately and find a book by Meg Gardiner.  Meg, you've been hidden in the UK for too long! I really enjoyed The Dirty Secrets Club, but this one was even better. At one point, Evan's sister-in-law tries to illegally take back custody of her son while Evan is locked in the back of a police car, and I thought I was going to literally jump out of my seat! And that was just the beginning! This story of a cult gone crazy really makes you think about what we as a society can control, and what we can't, especially as Evan tries to get help from the police, who don't know whom to believe. And I never expected the final twist. I think I especially liked the quiet times in the story, where you got a real sense of Evan, Jesse, and Luke's normal lives.  So often you only see the characters in a suspense novel in the midst of chaos.  I will definitely be reading (or listening to) more of these, likely sooner rather than later.
Audiobook length: 11hrs 36min | Approximate word count: 104,000
2008: Triptych (Karin Slaughter)
2007: Fool Moon (Jim Butcher)
2006: Incubus Dreams (Laurell K. Hamilton)
2005: The Big Bad Wolf (James Patterson)
Used in these Challenges: The Countdown Challenge; 100+ Reading Challenge 2009; 2nds Challenge; 2009 Audiobook Challenge; The 999 Challenge;