2009: Mailbox Monday – Monday #7
Made it by the skin of my teeth!
Only one book in my mailbox this week: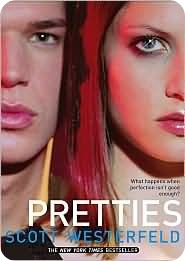 Pretties is the second book in Scott Westerfeld's Uglies series.  No, I haven't read the first one yet, but I put basically all of Westerfeld's books on my PBS wishlist and have been snagging them as they come available.
I actually should have had this a couple of weeks ago, but the person mailing it to me mailed it much later than they said.  The third book, Specials, is on its way to me soon!
Mailbox Mondays are hosted by The Printed Page.