2011: Challenges – ARC Reading Challenge 2011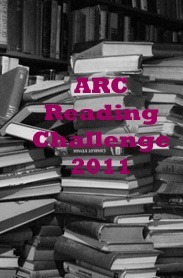 I'm giving the ARC Reading Challenge, hosted by Teddy Rose at So Many Precious Books, So Little Time, another try. I didn't quite make my goal last year.
The usual challenge rules apply.  The one difference this year is that we don't need to list all of our ARCS.  There are four levels to choose from:
Level Bronze: .a. All who have or will have less than 12 ARCS must read all of the ARCS they have. Note, that if you have 11 ARC's and then receive a 12th one you will be bumped up to catagory b.
b. All who have or will have 12 or more than 12 ARCS  must read and review at least 12.
Level Silver: Read 24 ARCS
Level Gold: Read 25 ARCS
Level Platinum: Read 30 or more ARCS
Sign-up at the challenge post! I guess I'm shooting for Level Gold.  If I can make Silver I can make Gold, right?  My list will be below.
Last updated:  10/3/11
Lookie that! I wasn't expecting my reading to be so ARC heavy this year. I guess I will keep counting!
A Hard Death – Jonathan Hayes