2010: #102 – All He Ever Wanted (Anita Shreve)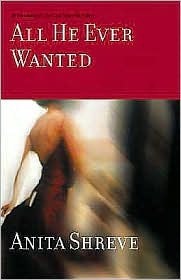 Book #102 was All He Ever Wanted by Anita Shreve.  The back of the book reads:
In the wake of such acclaimed #1 bestsellers as The Pilot's Wife, The Last Time They Met, and Sea Glass, Anita Shreve gives us a brilliant new novel about love, jealousy, and loss. It is the story of a man whose obsession with a young woman begins when he meets her fleetingly–as he helps her escape from a fire in a restaurant–and culminates in a marriage doomed by secrets and betrayal. Written with the intelligence and grace that are Anita Shreve's hallmarks, this gripping tale is peopled by unforgettable characters as real as the emotions that bring them together.
This is a bit of a strange tale.  It's the story of a man and the woman he wants to, and eventually does, make his wife, but it's more complicated than that. We meet Nicholas in his later years, and we quickly learn that his wife Etna is gone.  He is feeling compelled to tell us the story of their marriage, so we get the entire tale through his eyes. What we find out is that Nicholas is not a very likeable guy.  He's obsessive, over emotional, exceedingly stubborn, and often blinded to the truth of things.  He is convinced that Etna is the woman for him, though she never shows him much in the way of real affection.  Heck, she runs away when he asks her to marry him!  Yet, she must be his, so he makes it be.
This book sparked several interesting discussions in my book club, ranging from the biological urges involved in attraction and obsession to gender roles to gender stereotypes. And I had to leave early, so who knows what they talked about after I left!
The beginning of the book is pretty slow, so I'm not entirely sure I would have finished it if I wasn't reading it for my book club. Thankfully, it does pick up after a time. Overall, All He Ever Wanted is a disturbing story, and Nicholas is a creepy guy.  Even worse, he still doesn't realize how wrong he is in the end.
Other reviews:
'All He Ever Wanted' by Anita Shreve – Reading Matters
Page count: 384 | Approximate word count: 96,000
2009: Wish You Were Here (Rita Mae Brown)
2008: Swallowing Darkness (Laurell K. Hamilton)
2007: 16 Lighthouse Road (Debbie Macomber)
2006: A Death in Vienna (Daniel Silva)
Used in these Challenges: 2010 100+ Reading Challenge; 2010 Reading From My Shelves Project; Historical Fiction Reading Challenge; Pages Read Challenge Season 2; Countdown Challenge 2011;