2011: #75 – The Red Queen (Margaret Drabble)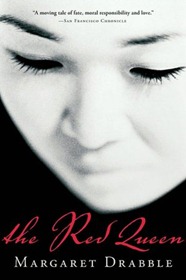 Book #75 was The Red Queen by Margaret Drabble. The back of the book reads:
200 years after being plucked from obscurity to marry the Crown Prince of Korea, the Red Queen's ghost decides to set the record straight about her extraordinary existence – and Dr Babs Halliwell, with her own complicated past, is the perfect envoy. Why does the Red Queen pick Babs to keep her story alive, and what else does she want from her? A terrific novel set in 18th century Korea and the present day, The Red Queen is a rich and atmospheric novel about love, and what it means to be remembered.
In the interest of full disclosure, I'll first say that I didn't actually finish this novel. However, I did invest a lot of time (and a book club meeting) in it, so I'm counting it.
This novel is written in two parts, both narrated by the "ghost" of Queen Heongyeong, an 18th century Korean crown princess. The first part is about the Queen's life, with a heavy focus on the actions of her husband, Prince Sado, who was mentally ill and came to an unfortunate end. The second part is about Dr. Babs Halliwell, who is attending a conference in Korea and mysteriously receives a copy of the Queen's memoir that she reads on the plane.
I really enjoyed the first part of the novel. The Queen's story is based on fact, and it was a turbulent time in Korean history. In a time when there was no way to diagnose, or even treat, mental illness, I found Prince Sado's progression into madness to be really interesting. The Queen gets a bit repetitive, but the story still pulled me through. And sent me to Wikipedia afterwards, which for me is a sign of good historical fiction. I hardly knew anything about Korean history, and now I know a little bit more.
It was the second half of the book that lost me. Babs Halliwell isn't in a good place in her life, and also has a mentally ill husband. We are supposed to see her as a modern-day parallel to the Queen, but I just didn't find her to be a very interesting character. It's at this point that the books starts to feel really indulgent. I think Drabble fancied herself as the voice of the Queen, and Dr. Halliwell is supposed to be an avatar of her.  Because Drabble loves the Queen's story, we are expected to love it too.
I think this would have been a much better novel if she had taken the Queen's story and fleshed it out more completely. Her story was interesting enough to carry a novel all on its own.
Other reviews:
Kristina's Book Blog » The Red Queen — Margaret Drabble
BookNAround: Sunday Salon: Review: The Red Queen by Margaret Drabble.
The Red Queen by Margaret Drabble | Book Reviews
Lotus Reads: The Red Queen by Margaret Drabble
Ace and Hoser Blook: The Red Queen by Margaret Drabbel
Page count: 348 ('11 total: 20,559) | Approximate word count:  120,044 ('11 total: 7,398,892)
2010: Heat Lightning (John Sandford)
2009: Courting Catherine (Nora Roberts)
2008: A Paragon of Virtue (Christian von Ditfurth)
2007: The Life and Times of the Thunderbolt Kid (Bill Bryson)
2006: Cruel and Unusual (Patricia Cornwell)
2005: Under the Banner of Heaven (Jon Krakauer)