2010: #106 – Reckless (Andrew Gross)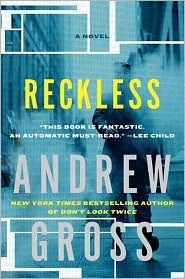 Book #106 was Reckless, the third book in Andrew Gross' Ty Hauck series.  The back of the book reads:
Ty Hauck is shattered by the news. A close friend from his past, along with her husband and daughter, has been brutally murdered in her home by vicious intruders. Now he will risk everything he loves to avenge her death. . . .

A wealthy banker, seeing his world about to crumble around him, knows his family is in unfathomable danger. . . .

A U.S. government agent watches the sudden bank transfers of millions in cash and suspects that this is the first step in a plot to unleash a wave of global panic. . . .

Ty Hauck hunts the murderer of a friend—and steps into the crosshairs of a sinister conspiracy—in this most electrifying novel yet from New York Times bestselling thriller master Andrew Gross

Private security investigator Ty Hauck, with Naomi Blum, a tenacious agent from the U.S. Department of Treasury, unravels the evidence that joins these seemingly unrelated events—revealing a reckless scheme that stretches from New York to London to central Europe and gives new meaning to the phrase "too big to fail." What began with a tragedy that opened a door to Hauck's past—a door that he thought was long closed—ends with a frantic race to avert a disaster that could shake the very security of our country—and even the world.
This wasn't too bad.  You can definitely tell Gross is a student of James Patterson's method, because the book is filled with short and punchy chapters. He's done a good job capitalizing on the current economic climate, showing us a worst-case scenario, of sorts.  Unfortunately, financial storylines tend to make my brain shut off, so I should have known that I wouldn't love this. The good thing is, I was able to follow what was going on enough to get it. Hauck isn't a bad character — he's one of those guys that just can't leave well enough alone.  I kept expecting more of a romantic interlude with Naomi, based on the way he described and reacted to her, and that colored my opinion of him a bit.  After all, he has a girlfriend at home.  That line is never crossed, but I'd be surprised if this is the last you see of Naomi Blum. Speaking of surprises, I wasn't surprised by any of the twists, even the final one about Ty's true connection to April.  Frankly, it was obvious almost from the start.
This was a review copy.
Other reviews:
Jen's Book Thoughts: RECKLESS – Andrew Gross
Cheryl's Book Nook: Reckless
Page count: 416 | Approximate word count: 104,000
2009: Full Bloom (Janet Evanovich)
2008: Foul Play (Janet Evanovich)
2007: Lifeguard (James Patterson)
2006: A Place Called Wiregrass (Michael Morris)
Used in these Challenges: ARC Reading Challenge 2010; 2010 100+ Reading Challenge; Pages Read Challenge Season 2; Countdown Challenge 2011;