2010: #14 – The Kitchen House (Kathleen Grissom)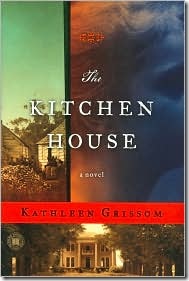 Book #14 was The Kitchen House by Kathleen Grissom. The back of the book reads:
Orphaned while onboard ship from Ireland, seven-year-old Lavinia arrives on the steps of a tobacco plantation where she is to live and work with the slaves of the kitchen house. Under the care of Belle, the master's illegitimate daughter, Lavinia becomes deeply bonded to her adopted family, though she is set apart from them by her white skin.

Eventually, Lavinia is accepted into the world of the big house, where the master is absent and the mistress battles opium addiction. Lavinia finds herself perilously straddling two very different worlds. When she is forced to make a choice, loyalties are brought into question, dangerous truths are laid bare, and lives are put at risk.

The Kitchen House is a tragic story of page-turning suspense, exploring the meaning of family, where love and loyalty prevail.
I thought this was a beautiful read.  I especially liked the dual narration of Lavinia and Belle.  Lavinia is young and often naive, so you don't always get the full story from her point of view.  Belle gives us the darker side of the truth. Lavinia and Belle are interesting characters, but as leads, they react much as you would expect them to throughout the book.  For me, the most interesting character was Marshall, the Captain's son.  I really felt the most sympathy for him, despite his mostly evil presence in the book. He was a young impressionable boy whose only male role models (of his color) were an abusive, violent racist and a sexually abusive authority figure because his father was more in love with the sea than with his own family. I think Marshall wanted to be good, but he just didn't know how. I felt the Captain was actually a decent man, and things would have been much different if he'd spent more time at home. I did enjoy the slaves of the plantation and their interactions with each other, but they fit molds that one would expect.
Overall, I thought this book gave us a unique point of view of slavery and life on a plantation, and it felt authentic for the time period and location (in my part of the world, no less!). The subject of enslaved white people is one that's not often explored, and I appreciated this deviation from the usual.
As a side note, thanks to an invitation from Jen, The Literate Housewife, I had the opportunity to meet Kathleen Grissom and hear her read and speak about her inspiration for this book. I quite enjoyed meeting her and her husband, and got an autograph to boot!  There aren't a lot of opportunities around here for me to meet the authors of books I've read, so every one is special to me. Thanks to Jen for giving me a copy of the book (and for lunch, and driving to Lynchburg)!
Page count: 384 | Approximate word count: 96,000
2009: A Fistful of Charms (Kim Harrison)
2008: Sick Puppy (Carl Hiaasen)
2007: Judge & Jury (James Patterson)
2006: The Killing Dance (Laurell K. Hamilton)
2005: Rosemary's Baby (Ira Levin)
Used in these Challenges: Countdown Challenge 2010; 2010 100+ Reading Challenge; 2010 Pub Challenge; Historical Fiction Reading Challenge; New Author Challenge 2010; Pages Read Challenge Season 2; TwentyTen Challenge; Year of the Historical;