2010: #20 – Gossip of the Starlings (Nina de Gramont)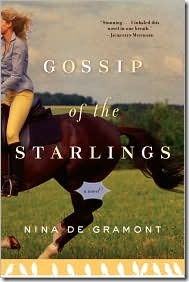 Book #20 was Gossip of the Starlings by Nina de Gramont.  The back of the book reads:
When Catherine Morrow is admitted to the Esther Percy School for Girls, it's on the condition that she reform her ways. But that's before the charismatic and beautiful Skye Butterfield, daughter of the famous Senator Butterfield, chooses Catherine for her best friend. Skye is a young woman hell-bent on a trajectory of self-destruction, and she doesn't care who is taken down with her. No matter the transgression—a stolen credit card, a cocaine binge, an affair with a teacher, an accident that precipitates the end of Catherine's promising riding career—Catherine can neither resist Skye's spell nor stop her downward spiral.

De Gramont's chilling novel is a portrait of an adolescent girl so thoroughly seduced by a peer that she willingly follows her to ruin. Caught in a world that is both appealing and astonishing, these young women are sexual beings with the minds of teenagers: willful, selfish, daring, and cruel—all the while believing they're utterly indestructible.
This book was both good, and not good. The good was that de Gramont does a great job of weaving this story of tragic youth. The story moved easily, and was believable for the timeframe (today, I'm sure the drug of choice would be something different). The not good part of the story was that I struggled to connect with either Catherine or Skye, a couple of spoiled rich girls who go through their lives without any real serious thought of the people around them. I was able to sympathize a bit with Catherine by the end, since she seems like she's trying to change her path, but when everything comes crashing down, it's hard to feel sorry for her. Sometimes it's hard to tell who was more drawn to who. In Catherine, Skye finds the rebellion she'd been struggling to find, and in Skye, Catherine finds the loyalty she's searched for. Really, I felt most sorry for those who were trampled in their path.
Other reviews:
Em's Bookshelf: Gossip of the Starlings by Nina de Gramont Book Review
Book Club Breakdown: Gossip of the Starlings by Nina de Gramont
Page count: 276 | Approximate word count: 82,800
2009: The Prey (Allison Brennan)
2008: Sad Cypress (Agatha Christie)
2007: The Brotherhood of the Holy Shroud (Julia Navarro)
2006: Kill the Messenger (Tami Hoag)
2005: G is for Gumshoe (Sue Grafton)
Used in these Challenges: The Four Month Challenge; Countdown Challenge 2010; ARC Reading Challenge; 2010 100+ Reading Challenge; New Author Challenge; Pages Read Challenge Season 2;