2010: #27 – Rest in Pieces (Rita Mae Brown)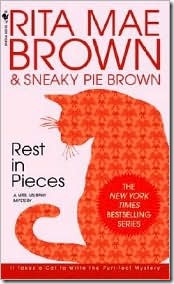 Book #27 was Rest in Pieces, the second book in Rita Mae Brown's Mrs. Murphy series.  The back of the book reads:
Mrs. Murphy thinks the new man in town is the cat's meow…. Maybe she should think again. Small towns don't take kindly to strangers–unless the stranger happens to be a drop-dead gorgeous and seemingly unattached male. When Blair Bainbridge comes to Crozet, Virginia, the local matchmakers lose no time in declaring him perfect for their newly divorced postmistress, Marry Minor "Harry Haristeen." Even Harry's tiger cat, Ms. Murphy, and her Welsh Corgi, Tee Tucker, believe he smells A-okay. Could his one little imperfection be that he's a killer? Blair becomes the most likely suspect when the pieces of a dismembered corpse begin turning up around Crozet. No one knows who the dead man is, but when a grisly clue makes a spectacular appearance in the middle of the fall festivities, more than an early winter snow begins chilling the blood of Crozet's very best people. That's when Ms. Murphy, her friend Tucker, and her human companion Harry begin to sort throughout the clues . . . only to find themselves a whisker away from becoming the killer's next victims.
I enjoy this series, even if the discussions between the animals about the moralities of humans are a little tiring. The whole "what makes humans so civilized when they go around killing each other" theme could stand to be a little less blatant.  Regardless, what you end up with here is a humorous, entertaining, well woven story. Maybe a little more humorous than the author intended, because the climax of the novel comes off a little like the Keystone Cops.  Though I wasn't surprised by who the murderer was, I was completely surprised by the reason. And I like to be surprised. I'll continue with this series.
Page count: 384 | Approximate word count: 96,000
2009: Vampire Academy (Richelle Mead)
2008: Ice Trap (Kitty Sewell)
2007: The Time Traveler's Wife (Audrey Niffenegger)
2006: Betrayal in Death (J.D. Robb)
2005: Open Season (Linda Howard)
Used in these Challenges: The Four Month Challenge; Random Reading Challenge; 2010 100+ Reading Challenge; 2nd Reading Challenge; E-book Reading Challenge; Pages Read Challenge Season 2;