2010: #28 – Hit and Run Holiday (Carolyn Keene)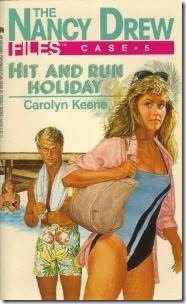 Book #28 was Hit and Run Holiday, the fifth book in the Nancy Drew Files series started in the late 80s. The back of the book reads:
Nancy Drew's quest for the driver who mowed down Kim Baylor in broad daylight leads her into extreme danger and an encounter with a murderer.
It's been many, many years (20?) since I've read a Nancy Drew book, and I'd forgotten how much fun they can be.  Nancy, Bess, and George have all they need for the perfect spring break — great weather, nice beaches, good looking guys, and a mystery. Nancy arrives just in time to see her friend run down in the street and witness the friend's room being searched.  And if she resisted the urge to find out what was going on, she wouldn't be Nancy Drew. The storyline is actually still relevant, and if it weren't for the lack of cell phones, this could have been written yesterday.  I have a bunch of these on my Kindle, so I'll definitely keep reading them from time to time.
Page count: 180 | Approximate word count: 45,000
2009: In the Woods (Tana French)
2008: Midnight Bayou (Nora Roberts)
2007: The Black Echo (Michael Connelly)
2006: Purity in Death (J.D. Robb)
2005: Wicked (Gregory Maguire)
Used in these Challenges: 2010 100+ Reading Challenge; 2010 Young Adult Reading Challenge; Pages Read Challenge Season 2; TwentyTen Challenge;