2010: #29 – Food Rules: An Eater's Manual (Michael Pollan)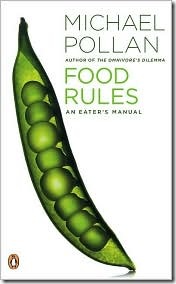 Book #29 was Food Rules: An Eater's Manual by Michael Pollan.  The back of the book reads:
A pocket compendium of food wisdom-from the author of The Omnivore's Dilemma and In Defense of Food

Michael Pollan, our nation's most trusted resource for food-related issues, offers this indispensible guide for anyone concerned about health and food. Simple, sensible, and easy to use, Food Rules is a set of memorable rules for eating wisely, many drawn from a variety of ethnic or cultural traditions. Whether at the supermarket or an all-you-can-eat-buffet, this handy, pocket-size resource is the perfect guide for anyone who would like to become more mindful of the food we eat.
In my understanding, Food Rules is basically a pocket-version of one of Pollan's other books, In Defense of Food.  So if you're read that one, you might not want to bother with this one.  I hadn't read either, and decided to download this on my Kindle after seeing Pollan on Oprah. Pollan's rules really boil down to three simple concepts: eat food, not chemicals; eat mostly plants; and don't eat too much. His 64 food rules are basically ways to help us do this. I'm not sure why there are 64; they probably could have been cut down to 50, because a few of them say the same thing with different words.  Regardless, I'm in favor of Pollan's philosophy.  I agree that we should focus our eating more on real food and less on whatever has the largest "low-fat", "low-calorie", or "low-sugar" label. Pollan's rules are definitely something I'll keep in mind as I'm shopping in the future.
I am reading a surprising amount of non-fiction this year.  So unlike me!
Other reviews:
Devourer of Books » Food Rules: An Eater's Manual – Book Review
Page count: 112 | Approximate word count: 20,000
2009: Can You Keep a Secret? (Sophie Kinsella)
2008: The Friday Night Knitting Club (Kate Jacobs)
2007: From Potter's Field (Patricia Cornwell)
2006: Divided in Death (J.D. Robb)
2005: Abandoned Prayers (Gregg Olsen)
Used in these Challenges: 2010 100+ Reading Challenge; E-Book Reading Challenge; New Author Challenge 2010; Pages Read Challenge Season 2; TwentyTen Challenge;