2010: #32 – Definitely Dead (Charlaine Harris)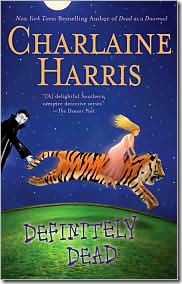 Book #32 was Definitely Dead, the sixth book in Charlaine Harris's Sookie Stackhouse series.  The back of the book reads:
Spiked with a "frothy fusion of romance, mystery, and fantasy" (Publishers Weekly), this "deliciously fiendish…increasingly riotous series" (Dallas Morning News) sends the supernaturally gifted cocktail waitress to New Orleans, where she has to deal with the legacy of one of her own family and a host of potentially dangerous characters.
Some parts (the relationship parts) of this series keep getting better.  Maybe because Sookie's moving further away from Bill with each book?  I now feel totally justified in my dislike of him from the start, plus, I like Sookie with a shapeshifter. Unfortunately, the plot here wasn't that great.  It seemed a little cobbled together, like the author just needed a reason to get Sookie out of town and to New Orleans for a while.  There's a couple of small bombshells dropped that will impact later books, but overall, the plot didn't do much to further Sookie's story (and the reenactment stuff was just plain weird).  Though now that I'm thinking of it, what *is* Sookie's story arc?  I'm really not sure. I'm not a fan of Bill, but I would like to see Sookie interact more with Eric and Pam again.
Other reviews:
Definately Dead (True Blood) by Charlaine Harris : Book Review
Review of "Definitely Dead" by Charlaine Harris « Rhapsody in Books
Review: Definitely Dead by Charlaine Harris « I'm Booking It
Charlaine Harris – Definitely Dead « Fyrefly's Book Blog
Definitely Dead by Charlaine Harris « Scooper Speaks
Page count: 352 | Word count: 100,899
2009: For a Few Demons More (Kim Harrison)
2008: Exit Music (Ian Rankin)
2007: Dark Angels (Karleen Koen)
2006: Survivor in Death (J.D. Robb)
2005: We'll Meet Again (Mary Higgins Clark)
Used in these Challenges: Sookie Reading Challenge; Countdown Challenge 2010; 2010 100+ Reading Challenge; E-book Reading Challenge; Pages Read Challenge Season 2;