2010: #60 – All Together Dead (Charlaine Harris)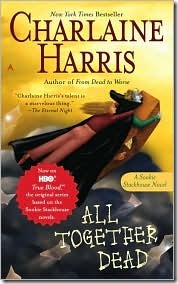 Book #60 was All Together Dead, the seventh Sookie Stackhouse book by Charlaine Harris.  The back of the book reads:
Louisiana cocktail waitress Sookie Stackhouse has her hands full dealing with every sort of undead and paranormal creature imaginable. And after being betrayed by her longtime vampire love, Sookie must not only deal with a new man in her life-the shapeshifter Quinn-but also contend with the long-planned vampire summit.

The summit is a tense situation. The vampire queen of Louisiana is in a precarious position, her power base weakened by hurricane damage to New Orleans. And there are some vamps who would like to finish what nature started. Soon, Sookie must decide what side she'll stand with. And her choice may mean the difference between survival and all-out catastrophe.
A lot of the time, later books in a series can feel watered down or old, but I've really enjoyed the path this series is on. Despite the heavy vampire politics in the recent books, things are not too difficult to follow here. In fact, some of the clues were neon-sign obvious to me, though Sookie doesn't figure things out until way too late.  She also makes some logical jumps that I'm not sure I would make in her shoes. I'm finding myself warming to her relationship with Eric, and disappointed in Quinn.  I thought the most interesting part of this book was the action Sookie takes that can possibly expose her "gift" to the public at large. I'm already on to the next book, so we'll see what happens!
Other reviews:
All Together Dead (True Blood) by Charlaine Harris : Book Review
Charlaine Harris – All Together Dead « Fyrefly's Book Blog
All Together Dead « reading comes from writing
All Together Dead by Charlaine Harris « Scooper Speaks
Whimpulsive: All Together Dead by Charlaine Harris
Page count: 352 | Word count: 96,733
2009: Breathers (S.G. Browne)
2008: Twisted (Andrea Kane)
2007: Hollywood Station (Joseph Wambaugh)
2006: The Slippery Slope (Lemony Snicket)
2005: The Rebels (John Jakes)
Used in these Challenges: Sookie Reading Challenge; Countdown Challenge 2010; 2010 100+ Reading Challenge; E-book Reading Challenge; Pages Read Challenge Season 2;