2010: #33 – A Stab in the Dark (Lawrence Block)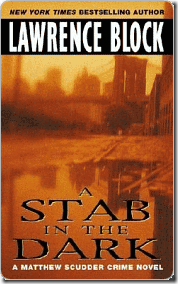 Book #33 was A Stab in the Dark, the fourth book in Lawrence Block's Matthew Scudder series.  The back of the book reads:
Louis Pinell, the recently apprehended "Icepick Prowler," freely admits to having slain seven young women nine years ago — but be swears it was a copycat who killed Barbara Ettinger Matthew Scudder believes him. But the trail to Ettinger's true murderer is twisted, dark and dangerous…and even colder than the almost decade-old corpse the p.i. is determined to avenge.
These early Matthew Scudder books, written in the late 70s and early 80s, feel like a window into another world. Scudder isn't so much a private investigator as he is "a guy who does favors and sometimes takes some money in exchange for them". He solves his mysteries without the aid of computers and databases and cell phones — his tools of the trade are footwork, conversation, and public libraries.  He spends a lot of time knocking on doors and dropping dimes(!) into pay phones. Unfortunately, he also spends a lot of time in the bottle, a trait that follows him through the series. In this book, a man has been arrested for a series of murders several years earlier.  The problem is, he couldn't have killed the final victim.  That victim's father is looking for answers, and Scudder is going to try to find them. I enjoy these books because they're short, gritty, and to the point.
Page count: 304 | Word count: 53,103
2009: The Kiss Murder (Mehmet Murat Somer)
2008: Those Who Trespass (Bill O'Reilly)
2007: The Monkey's Raincoat (Robert Crais)
2006: Origin in Death (J.D. Robb)
2005: I is for Innocent (Sue Grafton)
Used in these Challenges: 2010 100+ Reading Challenge; 2010 Reading From My Shelves Project; Pages Read Challenge Season 2;