#77 – Silent Night (Mary Higgins Clark)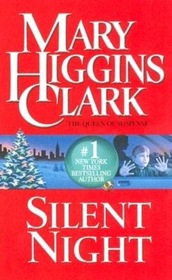 Book #77 was Silent Night by Mary Higgins Clark. The back of the book reads:
When Catherine Dornan's husband, Tom, is diagnosed with leukemia, she and their two young sons travel with him to New York during the holiday season for a lifesaving operation. On Christmas Eve, hoping to lift the boys' spirits, Catherine takes them to see Rockefeller Center's famous Christmas tree; while there, seven-year-old Brian notices a woman taking his mother's wallet. A St. Christopher medal tucked inside the wallet saved his grandfather's life in World War II, and Brian believes with all his heart that it will protect his father now. Impulsively, Brian follows the thief into the subway, and the most dangerous adventure of his young life begins. . . .
This was an impulse Christmas read and it was exactly what I wanted: short and sweet. Though truthfully, the only thing Christmas has to do with the story is to act as a setting. It's not like the bad guy has some big moment of redemption. Regardless, it was a quick little read that hit the spot.
Other reviews:
Silent Night by Mary Higgins Clark
Framed and Booked: 120. Silent Night / All Through the Night by Mary Higgins Clark
Page count: 192 ('11 total: 21,199) | Word count:  34,739 ('11 total: 7,546,062)
2010: The Secret of Ka (Christopher Pike)
2009: Killer Takes All (Erica Spindler)
2008: New Moon (Stephenie Meyer)
2007: Evil Under the Sun (Agatha Christie)
2006: Indigo Slam (Robert Crais)