2010: #34 – A Lesson Before Dying (Ernest J. Gaines)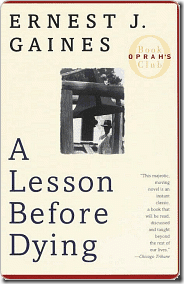 Book #34 was A Lesson Before Dying by Ernest J. Gaines.  The back of the book reads:
From the author of A Gathering of Old Men and The Autobiography of Miss Jane Pittman comes a deep and compassionate novel. A young man who returns to 1940s Cajun country to teach visits a black youth on death row for a crime he didn't commit. Together they come to understand the heroism of resisting.
I was decidedly "meh" about this book.  I think it addresses several important issues — the plight of young black men in the early 40s, the state of the justice system at the time, the usefulness of religion — but I think those issues could have been addressed in a better way.  The main character, Grant, is not particularly likable.  He's bitter, unmotivated, and at times, just plain mean. In fact, most of the characters in the book are not particularly likable.  Most of them appear to be downright miserable.  A sign of the times?  I don't know, but you'd think *someone* in the novel would be a joyful person.  Jefferson, the imprisoned man, is an interesting character, but even his turn-around is a little anti-climatic. With the build-up of the novel and the title and the praise and all, I expected much more of an epiphany at the end. For me, the pay-off just wasn't there.  If I hadn't been reading this for my book club, I wouldn't have finished it.
Other reviews:
Review A Lesson Before Dying « Care's Online Book Club
Books 'N Border Collies: A LESSON BEFORE DYING
Page count: 256 | Word count: 76,990
2009: The Uncommon Reader (Alan Bennett)
2008: A Dirty Job (Christopher Moore)
2007: The Lucky Ones (Rachel Cusk)
2006: Memory in Death (J.D. Robb)
2005: Dead Wrong (Mariah Stewart)
Used in these Challenges: 2010 100+ Reading Challenge; 2010 Reading From My Shelves Project; New Author Challenge 2010; Pages Read Challenge Season 2; TwentyTen Challenge;