2010: #35 – Murder at the Vicarage (Agatha Christie)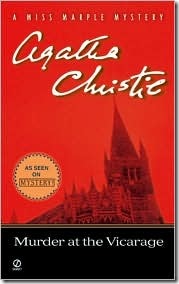 Book #35 was Murder at the Vicarage, the first of Agatha Christie's Miss Marple books.  The back of the book reads:
Agatha Christie's genius for detective fiction is unparalleled. Her worldwide popularity is phenomenal, her characters engaging, her plots spellbinding. No one knows the human heart–or the dark passions that can stop it–better than Agatha Christie. She is truly the one and only Queen of Crime.

Miss Marple–Agatha Christie's immortal spinster sleuth with the razor-sharp mind and an intuitive understanding of criminal behavior–encounters a compelling murder mystery in the sleepy little village of St. Mary Mead, where under the seemingly peaceful exterior of an English country village lurks intrigue, guilt, deception and death.

Colonel Protheroe, local magistrate and overbearing land-owner is the most detested man in the village. Everyone–even in the vicar–wishes he were dead. And very soon he is–shot in the head in the vicar's own study. Faced with a surfeit of suspects, only the inscrutable Miss Marple can unravel the tangled web of clues that will lead to the unmasking of the killer.
This is the first Agatha Christie I've read in full, rather than listen to the BBC audio production. Right from the start, you are reminded that Christie is a master. The best way to describe her story-telling is "effortless". You're instantly pulled into the story, and charmed by her characters, from the vicar's unusual wife to the Colonel's spoiled and shallow daughter, to the visiting artist, to the overly observant elderly ladies of the village.  This is the first Miss Marple mystery, but she isn't the narrator.  Instead, we are told the story by the village vicar, Len Clement. Miss Marple is seen a little as the village busybody, though she is usually right.  There's a lot of red herrings thrown into the story, and I actually fell for a rather subtle one.  Again, mastery!
Other reviews:
MYSTERIES in PARADISE: Review: THE MURDER AT THE VICARAGE
The Murder at The Vicarage (TSS) « Just A (Reading) Fool
Joyfully Retired » Agatha Christie: Murder at the Vicarage
Wordsmithonia: Murder at the Vicarage by Agatha Christie
A library is a hospital for the mind…: The Murder at the Vicarage
Page count: 288 | Word count: 69,730
2009: The Hunger Games (Suzanne Collins)
2008: A Thousand Splendid Suns (Khaled Hosseini)
2007: Iceberg (Clive Cussler)
2006: Seeing a Large Cat (Elizabeth Peters)
2005: A Secret Splendor (Sandra Brown)
Used in these Challenges: 2010 100+ Reading Challenge; 1st in a Series Challenge; Pages Read Challenge Season 2;