2009: #25 – The Girl with the Dragon Tattoo (Stieg Larsson)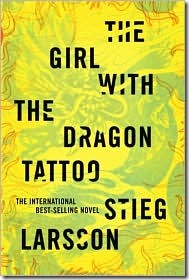 Book #25 was The Girl with the Dragon Tattoo, the first book in Stieg Larsson's Millennium trilogy.  The back of the book reads:
A spellbinding amalgam of murder mystery, family saga, love story, and financial intrigue.

It's about the disappearance forty years ago of Harriet Vanger, a young scion of one of the wealthiest families in Sweden . . . and about her octogenarian uncle, determined to know the truth about what he believes was her murder.

It's about Mikael Blomkvist, a crusading journalist recently at the wrong end of a libel case, hired to get to the bottom of Harriet's disappearance . . . and about Lisbeth Salander, a twenty-four-year-old pierced and tattooed genius hacker possessed of the hard-earned wisdom of someone twice her age—and a terrifying capacity for ruthlessness to go with it—who assists Blomkvist with the investigation. This unlikely team discovers a vein of nearly unfathomable iniquity running through the Vanger family, astonishing corruption in the highest echelons of Swedish industrialism—and an unexpected connection between themselves.

It's a contagiously exciting, stunningly intelligent novel about society at its most hidden, and about the intimate lives of a brilliantly realized cast of characters, all of them forced to face the darker aspects of their world and of their own lives.
This is a book I almost gave up.  I listened to it on audio, and a few hours in I felt like I was still listening to background and set-up and was anxious for the story to get started.  Thankfully, once it got rolling it was a snowball I couldn't stop. Mikael Blomkvist and Lisbeth Salander are very interesting characters… very alike in some ways, polar opposites in others.  I spent a great deal of time wondering how their stories would be tied together, and I wasn't disappointed when they eventually were. The mystery of Harriet's disappearance was also very interesting, and the whole story is nothing you would ever expect when the investigation begins. I just had a couple of problems with it… the author tends to refer to everyone by their last name, which is much harder for me to follow.  For some reason, I just don't remember last names as well as first names, so every time someone was mentioned that we hadn't heard of in a while, I had to think for a minute about who they were talking about.  Also, there's a bit of a loose end with the Harriet investigation that I was expecting to be tied up that never was. I was expecting a small twist that never came.
Overall, I quite enjoyed this and look forward to reading the next two (assuming the third makes it through translation to English). The ending to this one was sad in a way I didn't expect, and I'm anxious to see what it means for Blomkvist and Salander. If you start reading this and struggle a bit through the beginning, just stick it out… It gets so much better!
Audiobook length: 16hrs 19min | Approximate word count: 144,000
2008: One Mississippi (Mark Childress)
2007: Deal Breaker (Harlan Coben)
2006: Witness in Death (J.D. Robb)
2005: Ceremony in Death (J.D. Robb)
Used in these Challenges: 100+ Reading Challenge 2009; 1st in a Series Challenge; 2009 Audiobook Challenge; The 999 Challenge; A-Z 2009 Challenge;