2010: #36 – Dark Entries (Ian Rankin)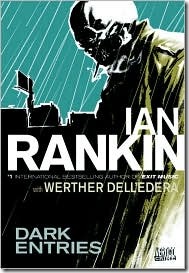 Book #36 was Dark Entries, a graphic novel written by Ian Rankin and illustrated by Werther Dell'Edera.  The back of the book reads:
HELLBLAZER's John Constantine must become part of HAUNTED PALACE — a closed-set reality game-show (think BIG BROTHER or SCI-FI's new reality show, ESTATE OF PANIC) in order to deal with a supernatural murder of one of the contestants. He enters as a 'surprise' contestant and meets the other participants, learning that they all have secrets and that one of them must be 'channeling' poltergeists and/or be the murderer.

However, John soon learns that he is in fact in a game-show which is being broadcast only to the denizens of Hell, who have chosen him to be the next contestant. Now he has to figure out who's the killer but also how to escape with his own soul in one piece.
I can't remember the last time I read a graphic novel, but I'm pretty sure it's been about 10 years.  It definitely won't be another 10, because I really enjoyed this and plan to find some more graphic novels to read soon.  You may be familiar with the main character, John Constantine, from the comic Hellblazer or the movie based on it, Constantine. Constantine is a magician, though not the type you're used to. And he tends to use his magic to keep those trying to get out of hell in their place. In Dark Entries, Constantine is used to make some commentary on the reality television phenomenon, as he is asked to join a group of people locked in a house and see what it is that is scaring them. The art is pretty great, and there is a big twist in the story that is illustrated very well with the change of the paper color from white to black. I've enjoyed Ian Rankin's other books, so I'm not surprised that I liked the story. This was the perfect book to start my read-a-thon with.
Page count: 216 | Approximate word count: 30,000
2009: Matilda (Roald Dahl)
2008: The Unlikely Spy (Daniel Silva)
2007: Trouble in High Heels (Christina Dodd)
2006: The Mummy Case (Elizabeth Peters)
2005: North and South (John Jakes)
Used in these Challenges: 2010 100+ Reading Challenge; 2010 Reading From My Shelves Project; Pages Read Challenge Season 2; The TwentyTen Challenge;