2010: #38 – Inner Harbor (Nora Roberts)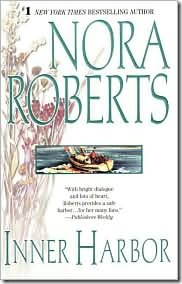 Book #38 was Inner Harbor, the third book in Nora Roberts' Quinn Brothers series.  The back of the book reads:
Philip Quinn is juggling his high-powered advertising job and his new-found family duty of helping to care for his young adopted brother, Seth, when Dr. Sybill Griffin shows up in the sleepy town of St. Christopher. Philip had done everything to make his life seem perfect. With his career on the fast track and a condo overlooking the Inner Harbour, his life on the streets was firmly in the past. But one look at Seth, and he's reminded of the boy he once was. Seth's future as a Quinn seems assured – until Dr. Griffin shows up. She claims to be researching St. Christopher's for her new book, but the true objects of her study are the Quinn brothers. Her cool reserve intrigues Phillip. He is determined to uncover her motives, and while Sybill can't deny her own growing feelings for the charismatic Quinn, the secret she hides has the power to threaten the life that the brothers have made for Seth, and destroy any chance that the two young lovers have at happiness…
This was my second favorite of the Quinn Brothers novels (Ethan's being my favorite). Nora Robert's best skill is creating characters and complex family units that feel real, and this series is no exception.  I liked this more in-depth look at Philip, and I also liked his romantic interest, Sybil, even if she is a bit cold and shut down for most of the book. Nora also does a great job pulling us into the setting, giving us a more clinical look at small-town life through the eyes Sybil, an outsider. The one element of this series I could do without is the ghostly Papa Quinn, especially since he is one of the few ghosts who have a solid form capable of giving someone a boost up a wall. But we all know that Nora likes a little bit of the supernatural mixed up in her love stories. The book does a good job of bringing resolution to the trilogy and answering some important questions, like Seth's parentage and Ray Quinn's connection to Gloria. This is one of her more solid series.
Audiobook length: 8 hrs 54 min | Word count: 93,695
2009: The Masque of the Black Tulip (Lauren Willig)
2008: Hide (Lisa Gardner)
2007: The Night Gardener (George Pelecanos)
2006: Case Histories (Kate Atkinson)
2005: I'm Not the New Me (Wendy McClure)
Used in these Challenges: 2010 100+ Reading Challenge; Audiobook Challenge; Contemporary Romance Reading Challenge 2010;