2010: #37 – In Ecstasy (Kate McCaffrey)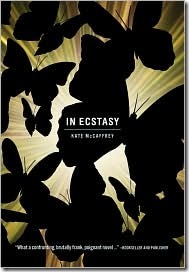 Book #37 was In Ecstasy by Kate McCaffrey.  The back of the book reads:
A best friend sinks into a quicksand of teenage addictions.

Sophie and Mia have been best friends for most of their 15 years. Sophie is popular, so when she suggests they try ecstasy Mia figures it can't hurt her own chances with the in crowd. Mia is elated when the drug lives up to its name and amazed when Lewis, the hottest guy in school, kisses her goodnight.

Soon Lewis is Mia's boyfriend, and she and Soph are running with his fast, rich friends, until Sophie is sexually assaulted by Lewis's drug-dealing buddy. Reluctant to say what happened, Sophie grows distant, leaving Mia to conclude she's jealous of her popular boyfriend. But to keep Lewis's attention, Mia grows increasingly dependent on the confidence that only E seems to give her. When things worsen, it is the girls' strained but solid friendship that finally helps bring Mia back from the brink.

Powerfully told from the alternating points of view of each girl, In Ecstasy is a brutally frank and utterly convincing portrait of the challenges facing contemporary teens.
I read this in the twilight of the read-a-thon, and it was perfect for that.  The chapters alternate point-of-view between the two girls, Sophie and Mia.  Sophie is the popular, outgoing one, and Mia just sort of tags along in her shadow.  One decision at one party changes all that, as Sophie convinces Mia to try Ecstasy.  What follows is a reversal of positions, with some unfortunate consequences. I think this is a good book for young teen girls to read, especially those who are more like Mia. It had some useful lessons about how seemingly small decisions can pile up to become much larger problems, and also about the strength of a good friendship.  On an aesthetic note, each girl's chapters used a different font, which made it easy to keep track of who was speaking.
Other reviews:
In Ecstasy – Kate McCaffrey
Just Listen Book Reviews: In Ecstasy by Kate McCaffrey.
In Ecstasy – Kate McCaffrey « Tower of Books
Page count: 272 | Approximate word count: 54,400
2009: Whiskey Sour (J.A. Konrath)
2008: Club Dead (Charlaine Harris)
2007: The Survivors (Dinah McCall)
2006: Goodnight Nobody (Jennifer Weiner)
2005: Circus of the Damned (Laurell K. Hamilton)
Used in these Challenges: ARC Reading Challenge 2010; 2010 100+ Reading Challenge; 2010 Young Adult Reading Challenge; New Author Challenge 2010; Pages Read Challenge Season 2; The TwentyTen Challenge;