2010: #42 – Strawberry Shortcake Murder (Joanne Fluke)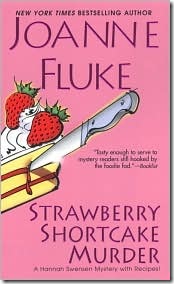 Book #42 was Strawberry Shortcake Murder, the second book in Joanne Fluke's Hannah Swensen series. The back of the book reads:
In her debut mystery, Chocolate Chip Cookie Murder, intrepid amateur sleuth and bakery owner Hannah Swensen proved that when it comes to crime, nothing is sweeter than a woman who knows how to really mix it up. Now, the flame-haired, tart-talking (and baking) heroine is back, judging a contest where the competition is really murder.

When the president of Hartland Flour chooses cozy Lake Eden, Minnesota, as the spot for their first annual Dessert Bake-Off, Hannah is thrilled to serve as the head judge. But when a fellow judge, Coach Boyd Watson, is found stone-cold dead, facedown in Hannah's celebrated strawberry shortcake, Lake Eden's sweet ride to fame turns very sour indeed.

Between perfecting her Cheddar Cheese Apple Pie and Chocolate Crunchies, Hannah's snooping into the coach's private life and not coming up short on suspects. And could Watson's harsh criticism during the judging have given one of the contestants a license to kill? The stakes are rising faster than dough, and Hannah will have to be very careful, because somebody is cooking up a recipe for murder…with Hannah landing on the "necessary ingredients" list.
I was fairly pleased with this second book in the Hannah Swensen series.  I like Hannah, even if she does have a knack for finding dead bodies.  In this book, some of Hannah's friends are acting a bit mysterious after the murder of the high school basketball coach, and she's having a hard time figuring out what's going on while juggling judging duties at the baking contest and keeping things going at her cookie shop. Secrets are in the air, and one person's attempt at blackmail has serious consequences. There are elements to this series that I enjoy besides Hannah's snooping around — I like her burgeoning relationship with her sister, Andrea, and her kinda romances with Mike and Norman.  It's a little refreshing to have a female main character who isn't rushing to be in a relationship with the first guy who shows her a little interest.  Hannah knows she has options, and she's considering them!  I used to be pretty heavily in favor of Detective Mike, but Dentist Norman is starting to grow on me.  The recipes scattered throughout the book are a nice bonus, and I can't wait to try a few. I did have one problem with the plot (spoiler ahead).  The crime ends up being rooted in steroid use on the basketball team, and that part of it wasn't especially believable for me. Steroids aren't generally a problem in basketball, because in basketball, while strength is good, bulk is bad. But that might just be me being picky.
Page count: 320 | Approximate word count: 80,000
2009: Tribute (Nora Roberts)
2008: Curse of the Spellmans (Lisa Lutz)
2007: The Fiery Cross (Diana Gabaldon)
2006: The Footprints of God (Greg Iles)
2005: Into Thin Air (Jon Krakauer)
Used in these Challenges: Four Month Challenge; Countdown Challenge 2010; 2010 100+ Reading Challenge; 2nd Reading Challenge; Pages Read Challenge Season 2; What's in a Name? 3 Challenge;