2010: #43 – Stalking the Angel (Robert Crais)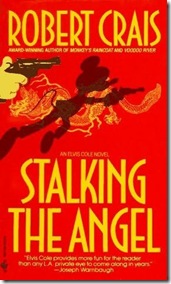 Book #43 was Stalking the Angel, the second book in the Elvis Cole series by Robert Crais.  The back of the book reads:
Bradley Warren had lost something very valuable, something that belonged to someone else: a rare thirteenth century Japanese manuscript called the Hagakure. Everything PI Elvis Cole knew about Japanese culture he'd learned from reading Shogun, but he knew a lot of crooks and what he didn't know, his sociopathic sidekick Joe Pike did. Together their search begins in LA's Little Tokyo and the nest of the notorious Japanese mafia, the yakuza, and leads to a white knuckled adventure filled with madness, murder and sexual obsession just another day's work for Elvis Cole.
Elvis Cole is an interesting guy.  He's a pretty good private detective in the classic mold, but his clients tend to think he's a little weird.  Especially when they find him in his office, standing on his head. Surrounded by Disney figurines. Elvis also has a soft spot for children in trouble, and that's what pulls him back to this case, even after being fired.  Soon, it's not about finding the Hagakure, it's about finding his client's daughter, Mimi. There's a lot more going on here than a missing book, and it gets difficult to figure out who is on whose side, and who is telling the truth. Elvis is a smart-ass, and he's found his perfect partner in Joe Pike, who probably says less than 50 words in the entire book. He may not say much, but he's always there when Elvis needs him.
Page count: 288 | Approximate word count: 72,000
2009: Full Blast (Janet Evanovich)
2008: Dark of the Moon (John Sandford)
2007: The Husband (Dean Koontz)
2006: Darksong Rising (L.E. Modesitt, Jr.)
2005: Vengeance in Death (J.D. Robb)
Used in these Challenges: 2010 100+ Reading Challenge; 2010 Reading From My Shelves Project; Pages Read Challenge Season 2;