2011: #8 – Crazy Hot (Tara Janzen)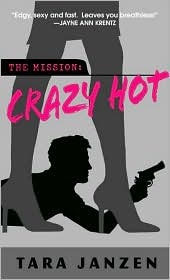 Book #8 was Crazy Hot, the first book in Tara Janzen's Steele Street series.  The back of the book reads:
Tara Janzen makes a dazzling debut with this roller-coaster ride of romantic suspense. Crazy Hot is the first in a four-book series of romantic thrillers that feature some of the hottest men in contemporary fiction: bad-boys-turned-American-heroes from a highly irregular, highly secretive "Special Forces" team. Their adventures – romantic and otherwise – turbocharge Janzen's new series with unstoppable action and breathtaking romance. Meet Crazy Hot's sexy, smoldering hero: ex-fighter pilot Quinn Younger, who crashes onto the scene just in time to save the day for heroine Regan McKinney, a paleontologist mixed up in a deadly plot. The action is relentless. The romance sizzles. And Tara Janzen keeps it coming with three more books in quick succession: Crazy Cool, Crazy Wild, and Crazy Kisses.
This is billed as romantic suspense, but it's pretty light on the suspense part.  I would view it more as a romantic adventure. We have a nice mix of handsome, bad-boy, secret agent military men; beautiful, quirky, damsels-in-distress; and lovely, powerful cars. As expected, sparks will fly. Having some dinosaur fossils thrown into the mix was an unusual twist that I appreciated. All of the characters are essentially one-note, and sometimes contradictory. For instance, buttoned-up and proper Regan has no problem with several exhibitionist trysts, and doesn't even have any regrets about it. But, when the rubber hits the road, the reason we pick up these books isn't plot or character depth.  We read books like this for the fantasy, and in this, the book succeeds.  It's a nice quick read, and I'll surely read more in the series.
Other reviews:
Passion for the Page: Review: Crazy Hot by Tara Janzen
Page count: 432 ('11 total: 2,070) | Approximate word count: 108,000 ('11 total: 754,873)
2010: Tongue in Chic (Christina Dodd)
2009: The Stupidest Angel (Christopher Moore)
2008: Loyalty in Death (J.D. Robb)
2007: Tokyo Woes (Bruce Jay Friedman)
2006: The Surgeon (Tess Gerritsen)
2005: One for the Money (Janet Evanovich)
Used in these Challenges: Countdown Challenge 2011; 2011 E-book Reading Challenge; New Author Challenge 2011; Outdo Yourself Reading Challenge 2011;